Last Updated On 31 March,2015 About 0 seconds from now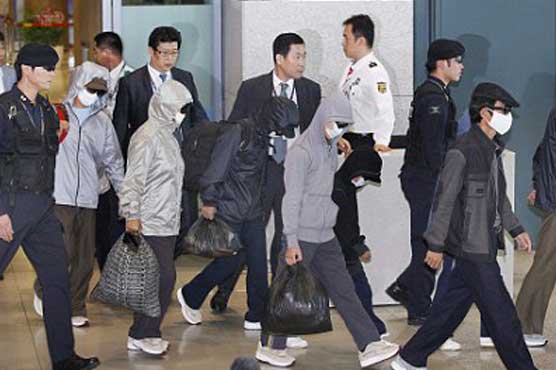 Han said he thought the new app was an "extremely useful tool"
SEOUL (AFP) - A new smartphone app developed in Seoul aims to help North Korean refugees overcome one of the biggest challenges they face in adjusting to life in South Korea -- speaking Korean.
Seven decades of almost total separation have engineered a radical split in the once common language of the two Koreas.
For North Korean defectors who risk their lives escaping to the South via China, this linguistic divergence represents a sizeable barrier in their struggle to assimilate when even something as simple as buying an ice cream requires a new vocabulary.
The two Koreas still share the same writing system, known as Hangeul -- a phonetic alphabet developed in the 15th century to replace Chinese characters.
So a North Korean refugee would have no trouble reading the transliteration "Ah-ee-sir-ker-rim" that South Koreans use for "ice cream" -- but he or she would not necessarily have any idea what the term meant or referred to.
And that s where the Univoca app comes in.
Developed by Seoul s top advertising firm, Cheil Worldwide, the app offers translations of 3,600 key words culled from South Korean high school textbooks as well as everyday slang expressions.
Tapping in the Hangeul for "ice cream" brings up the word oh-reum-boseung-yi (literally "coated ice"), as ice cream is known in North Korea.
- Focus on teenagers -
======================
Created as a part of the company s social outreach programme, the free app has been downloaded more than 1,500 times since its launch in mid-March, said Choi Jae-Young, the Cheil manager in charge of the project.
"We were looking for ways to help socially marginalised people suffering from communication problems... and realised young North Korean defectors have this big language barrier when studying at school," Choi told AFP.
A group of North Korean defectors, including student volunteers and professionals like former school teachers, helped in the task of identifying -- and translating -- common South Korean words that may perplex the young refugees.
One of them, 22-year-old college student Noelle Kim, said working on the project had brought back strong memories of her own linguistic struggles when she arrived in Seoul five years ago.
"Even asking for directions on the street was difficult because I couldn t understand all the words people were using in the answer," Kim told AFP.
"And I just felt too ashamed to admit it and ask what those words meant," she added.
Experts estimate such differences now extend to one third of the words spoken on the streets of Seoul and Pyongyang, and up to two thirds in business and official settings.
- Baffling English words -
==========================
Particularly baffling to new North Korean arrivals are the large number of English words that have been phonetically incorporated into the South Korean lexicon.
Where a South Korean would comfortably refer to a "penalty kick" in football, in the North they use a completely different Korean word meaning "11-metre punishment".
The difficulties are even more pronounced for young refugees who have to cope with the sort of rapidly-changing youth slang common to most countries.
"For North Korean teen defectors, who are more sensitive to cultural differences, the language issue is considered a first priority to solve when settling down in South Korea," Cheil said in a statement.
According to the Ministry of Education, the number of North Korean student defectors -- meaning those of elementary, junior or high school age -- rose from 966 in 2008 to 2,183 last year.
Kim recalled her own trouble mastering English words and how reading just a few pages of a South Korean school textbook used to take her hours.
"Something like this app would have been a precious gift to new arrivals like myself five years ago," she said.
- A unified dictionary -
========================
The growing language divide between the two Koreas is a source of official concern on both sides, as witnessed by an on-and-off, 25-year joint effort to produce a unified Korean language dictionary.
Chief editor Han Young-Un, who took a group of South Korean linguists and lexicographers to Pyongyang to work on the dictionary last November, believes the Korean usage split risks becoming as big a barrier to eventual North-South unification as the heavily militarised border dividing the peninsula.
Han said he thought the new app was an "extremely useful tool" that would make a big difference to the daily lives of young refugees.
"It might also help draw more attention to our project, and that s always welcome," he added.