Huawei to award Ascend Mate 7 and Honor 6 to Pakistani content writers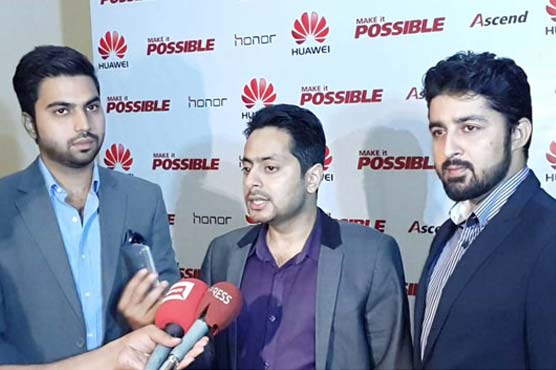 (Center) Fraz Khan, Marketing Head, Huawei Pakistan talking to media at the event.
LAHORE (Web Desk) - Last week, Pakistan looked a little at par with international arena when Huawei Pakistan introduced its two successors of Ascend Mate and Honor series.
The Chinese company organized a blogger event for this purpose in order to create some pre-sale hype. Apart from the products information that you can find below, Huawei Marketing Head, Fraz Khan shared an interesting plan with the audience for creating some innovative content based on Huawei's products.
Two teams of bloggers were created for producing content about Huawei and its smartphone devices. Whichever team wins will get Ascend Mate 7 whereas runner-up will get Honor 6 at the end of month long competition.
Huawei Ascend Mate 7 is a high profile smartphone which has been added in already healthy arsenal of Huawei flagships. Huawei has unveiled this flagship with elegant design, multiple brand new features, a powerful camera of 13 megapixels and an LTE support.
Ascend Mate 7 is preloaded with a much powerful octa-core processor, a quad-core 1.8 GHz Cortex-A15 and quad-core 1.3 GHz Cortex-A7 with a support of 2 GB RAM which makes it performance superfast. It has 16 GB internal memory and does support a microSD card slot for extra memory.
This time Mate comes with better screen resolution and has taken the display to full HD contrary to its predecessor Mate 2 which was having 720 p display. The screen size is 6 inches with the support of IPS LCD capacitive touch having screen resolution of 1080 x 1920 pixels which makes it display a treat to watch. It has Corning Gorilla Glass 3 for its screen protection. It has come up with 368 pixel density which is just little less than Apple iPhone 6. Moreover it has a finger print scanner and multiple gestures panel.
On the other hand, Huawei Honor 6 shares somewhat similar specifications with Ascend Mate 7 apart from the screen size which is 5 inches. Its design is slightly similar to its predecessor Honor 3C which is also a 5 inches smartphone.
The smartphone having an octa-core processor with the support of 3 GB RAM. It is also a KitKat enabled smartphone and yes it's too an LTE supported. Its internal memory is 16 GB and can support microSD card which can enhanced its space up to 64 GB which is more than enough.
Its rear camera is 13 megapixels and front camera is 5 megapixels. Its screen resolution is 1080 x 1920 pixels with 445 ppi pixel density which is better than Ascend Mate 7.
Another massive difference in both the smartphones can be spotted in their interfaces with Mate 7 having Huawei's latest Emotion UI 3.0 while Honor 6 is having Huawei Emotion UI 2.3, a slightly older version of Huawei user interface.
But both the sets have massive potential to outshine their utter rivals in the market. Relatively affordable prices and huge specifications will certainly play a vital part in the potential success of both the smartphones.