Mbappe scores 300th goal but focuses on France's record win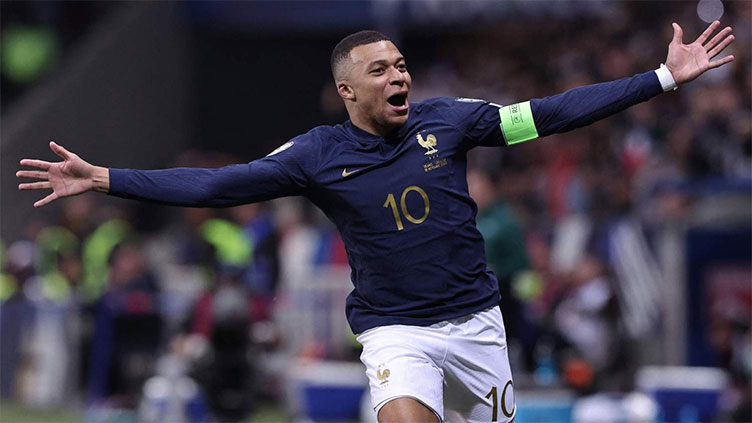 Sports
France registered a record 14-0 win over Gibraltar in a European qualifier.
PARIS (Reuters) - France captain Kylian Mbappe was prouder of his team's achievement than his own personal milestone as Didier Deschamps' side ran riot in a record 14-0 win over Gibraltar.
Mbappe's hat-trick in Nice saw him become the youngest player to reach 300 goals in Europe's top five leagues and international games combined, at age 24 years, 10 months and 29 days.
On a night when he captained his side to an historic win, the biggest ever victory in a European qualifier and France's biggest ever win, Mbappe was keen to focus on the team's achievement.
"We need to highlight the collective victory," Mbappe said.
"There have been a lot of talented France teams, to beat this record for the biggest win is something special. A team best is much more valuable than a personal best.
"The 300 goals scored in my career is a new milestone for me but it takes a back seat because the team put in an extraordinary performance today."
Lionel Messi hit his 300th goal at age 25 years, four months and three days, but his former team mate at Paris St Germain knows he still has a long way to go to reach the career numbers of both Messi and Cristiano Ronaldo.
"Some players scored 800, others 850, 300 next to it, it's ridiculous! It's a step for me and I want to continue to be decisive for my national team and my club," Mbappe said.
Goal number 300 was worthy of the milestone. Mbappe picked up a pass from Youssouf Fofana, spotted the Gibraltar keeper off his line and hit a splendid lob from 40 metres out. He said the keeper's position was something he had been looking at during the game.
"I'd been looking at the opposing goalkeeper for 20-25 minutes, I could see him very advanced, I didn't understand why. After that, it's instinct.
"When Youssouf gets the ball, I know straight away that I'm going to do that. Today it worked out for me, maybe another time, it didn't."
It was a ruthless performance from France, scoring seven goals in each half, against a Gibraltar side who were 3-0 behind and down to 10 men after 18 minutes.
"We wanted to go down in history and we did it collectively," Mbappe said.
"We had the objective of beating the record for the biggest win, the coach told us that there was something to go for, that's why we had this seriousness throughout the game."
Mbappe not only scored three goals but also provided three assists on a night when he looked happy to provide the goals for his team mates to ensure they achieved the record win.
"The armband forces you to change, if you don't want to change, you're not cut out to be captain," Mbappe said.
"When I wasn't captain, I had a slightly more individualistic vision of my game, of my score. Now I'm captain and I have to think about others first and foremost."
Mbappe also overtook Antoine Griezmann to move into third place on France's all-time scorers list on 46 goals and he is now only five behind Thierry Henry in second.