Viva Las Vegas for Verstappen after 18th win of season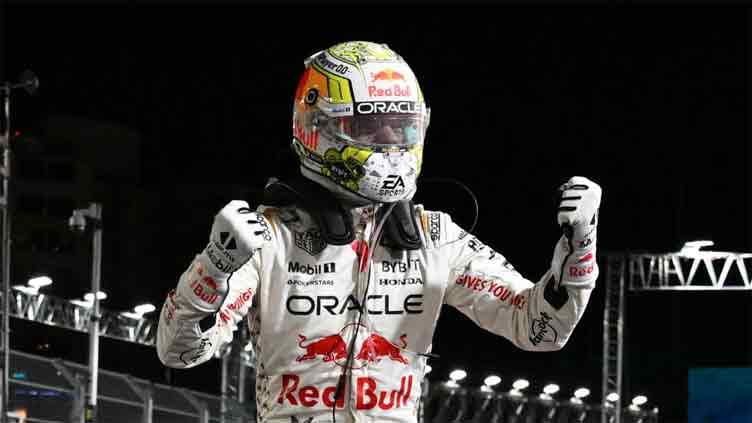 Sports
The Dutch world champion won by 2.070 over Leclerc but had to work for his victory
LAS VEGAS (AFP/Reuters) – World champion Max Verstappen claimed the 18th win of his record-breaking season, with victory in a thrilling Las Vegas Grand Prix on Saturday.
Red Bull's Verstappen sang "Viva Las Vegas" as he celebrated a record-extending 18th victory of the Formula One season and joined Sebastian Vettel in third place on the all-time winners' list.
The triumph was the 53rd of the triple world champion's career, and sixth in a row, and came after a five-second penalty for forcing Ferrari's Charles Leclerc off track at the start and then a later collision with Mercedes' George Russell.
It was also Red Bull's 20th win in 21 races, another record for a single season, and completed a sweep of three US wins in 2023 for their 26-year-old Dutch driver, who was also dominant in Miami and Austin.
Leclerc overtook Red Bull's Sergio Perez on the last lap to grab second place ahead of the Mexican with French driver Esteban Ocon of Alpine finishing fourth.
Verstappen had been highly critical of the return of Formula One to Vegas after a 41-year absence but as he drove past the finish line he celebrated with a chorus of 'Viva Las Vegas' on the team radio.
The grid was packed with a host of celebrities from the world of music, sport and entertainment as memories of the embarrassment of the opening practice session on Thursday being stopped early due to a loose water valve on the track, faded.
With low grip on the track there was no shortage of incident, overtaking and lead changes as the night race delivered the entertainment the American promotors had craved from the new event.
The Dutchman won by 2.070 over Leclerc but had to work for his victory in what was the latest starting race in F1 history.
Verstappen, starting second on the grid, grabbed the lead in the first turn of the opening lap but was penalised five seconds for pushing Leclerc wide.
But Ferrari's Monegasque driver Leclerc kept in close touch and was able to get the lead back, overtaking Verstappen on lap 16.
Verstappen had to serve his penalty in the pit, leaving him plenty of work to do to regain his lead and when Leclerc went into the pits on lap 22, Perez took over at the front.
Leclerc and Perez jousted for the lead but Verstappen was ominously gaining ground and after he passed Perez he then made his decisive move on lap 37.
From then on, Verstappen never looked back, Leclerc slipping into third spot after he out-braked himself and allowed Perez to fly by.
But there was one more twist in the tale as Leclerc brilliantly moved past Perez to grab second place.
"It was a tough one," said Verstappen, whose race suit further revved up the Sin City hype with flourishes in homage to the signature jumpsuit of the late "King of Rock and Roll", Elvis Presley.
"I tried to go for it at the start, I think we both braked quite late and then I just ran out of grip and we ended up a bit wide so the stewards gave me a penalty for that.
"That put us a little bit on the back foot, I had to pass quite a few cars ... It was definitely a lot of fun."