China's Xi opens Hangzhou Asian Games, ceremony dazzles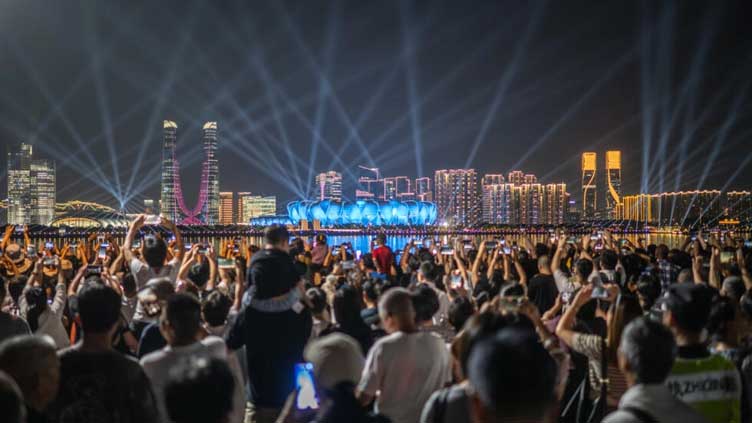 Sports
Over 12,000 competitors from 45 nations, and territories are in eastern city to compete in 40 sports
HANGZHOU, China (Reuters) - China's President Xi Jinping opened the COVID-delayed 19th Asian Games in the Eastern city of Hangzhou during a spectacular and at times raucous ceremony on Saturday, which organisers hope will lift the mood in a nation struggling with an economic slump.
Spectators in the city's 80,000 capacity stadium let out a huge roar as Xi was introduced and walked in to sit with visiting dignitaries including International Olympic Committee President Thomas Bach and Syria President Bashar al-Assad.
The Games, delayed by a year due to China's measures to combat the COVID-19 pandemic, will be the country's biggest sporting event in over a decade in several metrics, with around 12,000 athletes from 45 nations competing in 40 sports.
After the Chinese flag was brought out, the first team out was Afghanistan, whose female athletes, based abroad due to sport for women being banned by the Taliban, walked together with their male counterparts.
Their flagbearers carried the tri-colour flag for Afghanistan which is used by international resistance movements and shunned by the Taliban.
Several teams including Chinese Taipei were vocally welcomed by the spectators, but none more than the home team, whose athletes are expected to dominate the medals table once again.
The Games also mark a stark contrast to the cheerless Beijing 2022 Winter Olympics that took place under China's strict zero COVID conditions, which lasted for nearly three years from January 2020 until late 2022.
"I feel excited, particularly as a Hangzhou local," said a man surnamed Zhao on his way into the stadium. "It's a great chance to show the world how nice our city is ... it was also delayed by a year. But that gave us a chance to prepare even better."
In an often spellbinding ceremony intended to burnish Hangzhou's status as one of China's centres of technology and creativity, dozens of balletic dancers hovered above a digitally-projected lake in the wake of a flotilla of sail-boards.
In a modern take on the traditional lighting of the cauldron, a huge, digitally animated torchbearer "ran" the length of the stadium before settling to loom above the actual torch-bearer, China's Olympic champion swimmer Wang Shun.
In synch, the pair lit a huge, multi-pronged cauldron, prompting another bout of cheering and, soon after, a digital firework display.
TRAFFIC CONTROL
A sizeable "traffic control area" around the city's Olympic stadium was blocked off, at least one metro station was shut and deliveries were disrupted on Saturday.
Some felt the security measures, always tight wherever Xi goes for a visit, were overdone.
"I think it shows they're too nervous, right?", said 45-year-old Hangzhou resident Li Jian.
Amongst large crowds of people who specially went to a viewing platform across the river from the stadium to see the ceremony from a distance, many left early. Others said they were underwhelmed.
"Many trailers were released before, such as a drone performance, but I didn't see anything," said a man surnamed Wu, visiting from Sichuan province. "It's a shame."
One local social media user was told that due to safety rules surrounding the Games a pencil sharpener they had ordered could not be delivered. "How dangerous is the sharpener?," the user wrote. "Will I be able to use it to kill foreign country leaders?"
Organisers have not disclosed spending on the Games, though the Hangzhou government has said it spent more than 200 billion yuan ($30 billion) in the five years through 2020 on transport infrastructure, stadiums, accommodation and other facilities.
Organisers hoped a high-tech opening ceremony on Saturday would help drum up excitement for the Games. Interest at home has been muted as the economy sputters and some question the cost of hosting the mega-event.
GEOPOLITICAL TENSIONS
The official slogan of the event, "Heart to Heart, @Future", represents the goal of uniting the people and countries of Asia through these games, officials have said, but geopolitical tensions and rivalries threatened to overshadow that effort this week.
On Friday, India protested over a visa issue that affected three of its athletes at the games, leading India's sports minister Anurag Thakur to cancel his trip.
Japan's top government spokesperson said on Tuesday that Tokyo would do its utmost to ensure the safety of Japanese nationals in China as the release of treated radioactive water from the Fukushima nuclear power plant into the sea has chilled ties.
"We should promote peace through sports, adhere to the principle of goodwill towards neighbours and mutual benefit and ... resist the cold war mentality and confrontation between camps," Xi told dignitaries including Bach and Assad at a banquet before the ceremony on Saturday, state news agency Xinhua reported.
Some analysts said Xi also wishes to send a message to Asian leaders that China is open for business.
"Xi Jinping wants to use these Games to showcase that China is still an economic leader, the economic locomotive of Asia ... as a response to Western criticism," said Marcus Chu of Hong Kong's Liangnan University who researches Chinese sports-politics.