Hamilton eager to see how Mercedes upgrades perform in Spain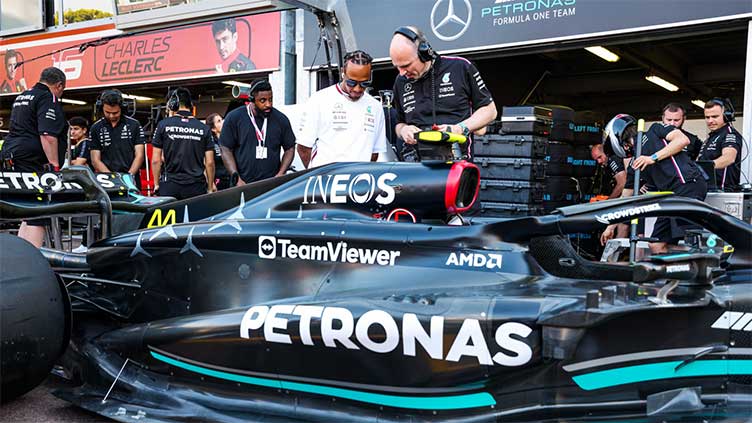 Sports
Hamilton and Russell were optimistic that Mercedes upgraded car will produce improved performance.
BARCELONA (AFP) – Lewis Hamilton and his Mercedes team-mate George Russell were optimistic on Thursday that their heavily-upgraded car will produce improved performance and results at this weekend's Spanish Grand Prix.
But both conceded that the runaway dominance of Red Bull and the similar improvements to be introduced by rivals Ferrari and Aston Martin, among others, made it difficult to evaluate their progress.
"Monaco was not a good place to introduce new parts, but this is the perfect test track with a lot of high-speed corners so I am sure we can learn more about where we stand here," said seven-time champion Hamilton.
"Of course, the others have upgrades here too, but from our race here last year, I am intrigued to see what happens because we did well and had a relatively good weekend."
"It's going to be very interesting to see."
Mercedes introduced a change of philosophy with the sidepods of their W14 car in Monte Carlo along with new suspension arrangements, a revised floor and rear wing and rear brakes in a wide-ranging package.
Those changes are expected to be followed by more upgrades this weekend as the team seek to overhaul Aston Martin and Ferrari in pursuit of Red Bull.
"We are not going to judge anything just on this weekend," said Russell. "Last year, we had a really competitive weekend in Barcelona. I was on the podium and Lewis was strong in the race after a puncture.
"We came away thinking all our problems were solved and then went to the following couple of races and learned that wasn't the case at all!
"I'm sure we will have a slightly more competitive weekend here, but that won't mean we are definitely back."
He explained also that after a challenging start to the season with five of six races on temporary street tracks, the prospect of a run of more familiar and conventional circuits would help provide more accurate guidance on performance.
"We should get a better picture of where the car truly is and the order will be in a bit more of a settled position".