Hundreds of fencers issue plea to IOC over Russia, Belarus decision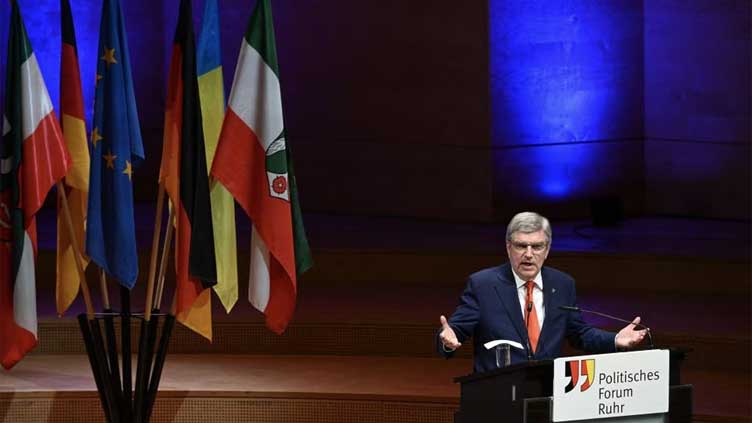 Sports
It was signed by 318 fencers - 286 still competing, the remainder retired - from across Europe
MANCHESTER, England (Reuters) - More than 300 fencers have asked the International Olympic Committee (IOC) and fencing's global federation to reconsider allowing Russian and Belarusian athletes to compete in international competitions, calling it a "catastrophic error".
A letter sent to IOC President Thomas Bach and Emmanuel Katsiadakis, the interim president of the International Fencing Federation (FIE), comes just days before the window for 2024 Paris Olympic qualifying opens.
It was signed by 318 fencers - 286 still competing, the remainder retired - from across Europe, plus the United States, Canada, Mexico, Brazil, Chile, and Japan.
The IOC sanctioned Russia and Belarus after Moscow's invasion of Ukraine in February 2022 but is now reluctant to exclude their athletes from the Olympics entirely for fear of a return to the boycotts of the Cold War era.
It set out a pathway in January for competitors from Russia and Belarus to earn Olympic slots through Asian qualifying and to compete as neutral athletes in Paris next year.
The decision to clear Russian and Belarusian athletes to participate in international fencing events was made on March 10 at the FIE Extraordinary Congress.
"With complete disregard for athletes' voices, you have permitted both Russia and Belarus back into FIE competitions, as well as a suspected tournament hosted on Russian soil," the letter from the fencers said.
"This is an apparent break of the IOC's position ... and once again exposes Russian interests outweighing the voice and rights of athletes, especially those from Ukraine."
The inclusion of Russia and ally Belarus has already muddied the Olympic qualifying landscape, with Germany announcing it was bowing out of hosting an FIE World Cup and Poland considering doing the same.
"Nothing is sure at the moment, everything is in movement, and we are right just before Olympic qualification and nobody knows how this is going on, how this can happen?" German fencer Lea Kruger told Reuters.
World Cup results between April 3, 2023 and April 1 2024 contribute important world ranking points toward Olympic qualifying.
'UNIFYING VISION'
On Feb. 28 last year the IOC issued recommendations to international sports federations to bar athletes from Russia and Belarus from international tournaments, citing Moscow's "special military operation" in Ukraine as the reason.
On Jan. 23, however, citing a "unifying vision," the IOC announced that a pathway for participation must be explored, saying banning an athlete based on their passport was discrimination.
"The IOC being committed to human rights, like the international sports federations, has of course to address these serious concerns," Bach, an Olympic gold medallist in fencing, said last month.
Russian Olympic Committee President Stanislav Pozdnyakov, a four-time Olympic fencing champion and former head of the European Fencing Confederation, said in a statement "the voice of commonsense has been heard".
Kruger said the fencers were not asking for a ban "in a light way".
"It's still hard to say the (Russian) athletes cannot compete, because they also have Olympic dreams. But, on the other hand, you have the interests of Ukrainian athletes. They have to run away. They are dying in this war," she said.
According to international athlete-led organisation Global Athlete, 343 sport facilities in Ukraine have been destroyed, leaving an estimated 140,000 young athletes without facilities, while 40,000 Ukrainian athletes are training abroad.
The figures cover all sports in Ukraine. "What more has to happen to sanction a state for something, when (Russian President Vladimir Putin) is breaking the principles of sport? One of the most important principles is peace," said Kruger, who added that some of her fellow fencers were unsure of signing the letter, fearing retribution.
The fencers acknowledged in the letter that the IOC and world federations are walking a fine line with sanctions given the underlying mission of sport as unifying and peacemaking.
"(But) this egregious, unprovoked war and its breach of the Olympic Truce cannot be ignored or rewarded," they wrote. "Returning to business as usual would be a catastrophic error."
Reuters has requested comment from the IOC and FIE.