Japanese pair aiming to inspire after historic world skating win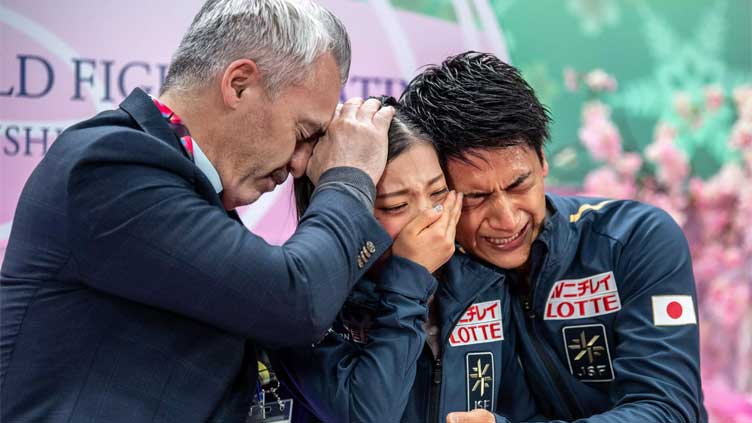 Sports
The pair broke down in tears once their victory was confirmed
Saitama (Japan) (AFP) – Riku Miura and Ryuichi Kihara said they wanted to inspire a new generation after becoming Japan's first ever figure skating pairs world champions on Thursday.
The Japanese duo survived a late slip to hold off Americans Alexa Knierim and Brandon Frazier for the gold in front of an expectant crowd in Saitama, north of Tokyo.
The win gave Miura and Kihara an incredible season sweep, the pair having already claimed the NHK Trophy, Skate Canada, Grand Prix final and Four Continents titles.
Kihara said he hoped their latest win would usher in a new era of Japanese pairs success.
"I would love it if boys and girls watching this thought that they wanted to try pairs skating themselves and we get more and more Japanese pairs," he said.
"I hope people will look back in 10 or 20 years' time and say this was the catalyst for it changing."
Miura and Kihara took gold with an overall score of 222.16, ahead of Knierim and Frazier in second place on 217.48.
Sara Conti and Niccolo Macii won bronze to claim Italy's first ever world pairs medal on 208.08. Russian skaters have again been banned from the competition because of the war in Ukraine.
Miura and Kihara went into the free skate with a whopping six-point lead over Knierim and Frazier, having earned a personal best in the previous day's short programme. A fall from the American pair in the free gave Miura and Kihara some breathing space, but a late slip by Miura left the Japanese skaters sweating on the judges' score.
"We didn't know what the score was going to be but I told her to puff her chest and be proud, and just pray for the score," said Kihara. The pair, who have competed together since 2019, broke down in tears once their victory was confirmed.
"We have some regrets from the free skate but I'm very, very happy," said Miura. Knierim and Frazier's preparations for the event were rocked when their coach Todd Sand suffered a heart attack earlier this month.
Frazier said the competition had been "challenging and emotional" but he and his partner were proud of their performance. "We've had a couple of mistakes here but we held our chins high and we attacked everything," he said. "I'm just so fulfilled with how Alexa and I performed this week."