Linette stuns Pliskova to reach first Grand Slam semi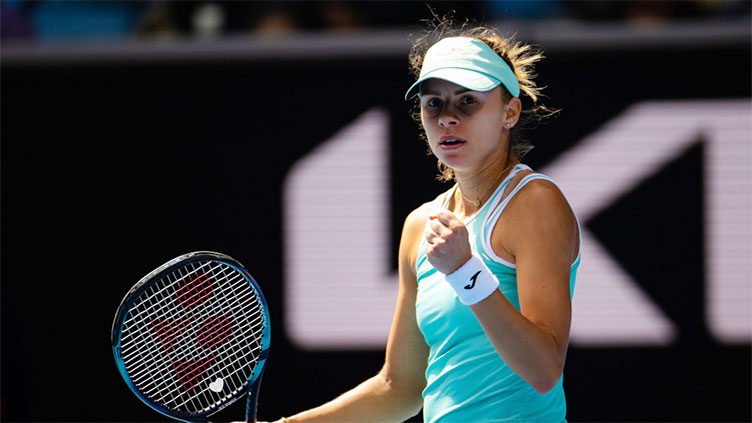 Sports
Magda Linette beat Karolina Pliskova 6-3, 7-5 in the Australian Open on Wednesday.
MELBOURNE (Reuters) - Unheralded Pole Magda Linette continued her dream run into the semi-finals of the Australian Open on Wednesday, stunning former world number one Karolina Pliskova in a deserved 6-3 7-5 victory on Rod Laver Arena.
The world number 45 played wonderfully controlled tennis in the opening set as twice Grand Slam finalist Pliskova racked up 14 unforced errors under the blazing sun on the main showcourt.
Pliskova had to raise her game in the second set but Linette had the answer to everything the Czech threw at her and broke for 6-5 before serving out nervelessly for the win.
Linette will battle for a place in the final against fifth seed Aryna Sabalenka or Donna Vekic, who face off in Wednesday s second women s quarter-final.
VICTORIA AZARENKA BEAT JESSICA PEGULA
Two-time champion Victoria Azarenka rolled back the years at Melbourne Park on Tuesday night, dismissing Jessica Pegula 6-4, 6-1 to reach the semi-finals for the first time since 2013.
During her run to the second of her back-to-back Australian titles that year, Azarenka took a nine-minute medical timeout in the semi-final against Sloane Stephens after failing to convert five match points.
Azarenka went on to turn the match around and eventually lift the trophy, but she had to defend herself from accusations of gamesmanship and cheating.
The Belarusian revealed later she had suffered a panic attack on court and couldn t breathe, which caused the long delay.
Azarenka said Tuesday she had only just learned how to cope with self-doubts and anxiety during matches, which can be overwhelming, and only recently got over that "worst" moment of her career.
"It was one of the worst things I have ever gone through in my professional career, the way I was treated after that moment, the way I had to explain myself until 10.30pm at night because people didn t want to believe me," she told reporters.
"I actually can resonate what Novak said the other day," she added, referring to Djokovic hitting back about comments on his hamstring injury.
The 35-year-old Serb looked hampered and in pain in his early matches, with a heavily bandaged leg.
But the nine-time champion seemed unhindered as he raced past Australia s Alex De Minaur and into the quarter-finals on Monday for the loss of just five games.
Djokovic told Serbian media he was fed up with suggestions that he might have faked the injury -- and that such slurs only motivated him more.
Djokovic, who plays Russian fifth seed Andrey Rublev in the men s singles quarter-finals on Wednesday, said this week he was an "easy target to be the villain".