Published On 30 July,2021 09:40 pm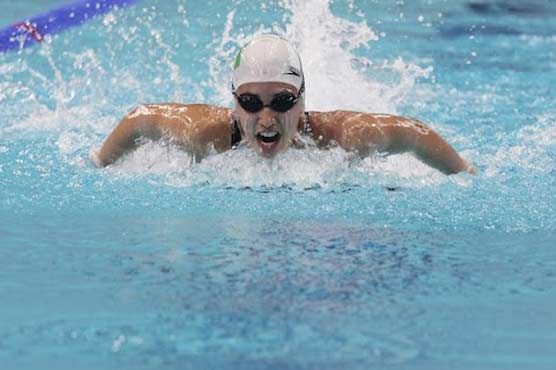 Bisma finished 7th out of eight athletes in Heat 5
TOKYO (Web Desk) – Pakistani swimmer Bisma Khan has dropped out of the Tokyo Olympics 2020 in Heat 5 of the women s 50-meter freestyle event on Friday.
With 27.78 seconds, Bisma finished 7th out of eight athletes in Heat 5, with an overall rank of 56 out of 81 swimmers in the 50m freestyle category. The top 16 qualify for the semi-final.
She was 1.44 seconds behind the best swimmer in her heat and 3.76 seconds overall. The 19-year-old, however, improved on her personal best that was 27.90 seconds, which is also a national record in this particular category. She is due to fly back to Pakistan later on Friday.
Bisma Khan was determined to win a gold medal in swimming at the Tokyo Olympics, but her dream did not come true. Earlier, Bisma s elder brother and sister had also competed in the Olympics. Bisma Khan had previously won gold and silver medals in domestic and foreign swimming competitions.
The Lahore-born is the current national champion swimmer and holds national records in five events. She won gold at the South Asian Junior Aquatic Championship, a third-place finish in the 4th Islamic Solidarity Games 2017, and a silver medal at the 13th South Asian Games 2019.
Bisma is the 6th Pakistani athlete, out of a total contingent of 10, to crash out of the Olympics medal race after Talha Talib (weightlifting), Gulfam Joseph (men's 10m AirPistol), Haseeb Tariq (freestyle swimming 100-meter), Mahoor Shahzad (badminton), and Shah Hussain Shah (Judo) failed to inspire in their respective events.
It is pertinent to mention here that 10 athletes from different sports have reached there to participate at Tokyo Olympics, the capital of Japan, to participate in the Olympics from Pakistan. Earlier, badminton player Mahur Shehzad and young weightlifter Talha Talib also performed well but failed to win any medals for the country.