Last Updated On 03 August,2018 08:32 am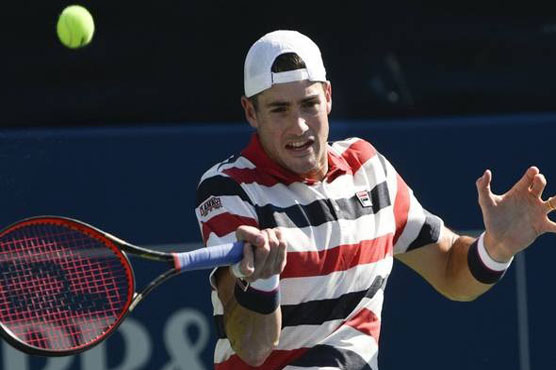 Noah Rubin beat John Isner 6-4, 7-6 (8/6) at the ATP and WTA Washington Open on Thursday.
WASHINGTON (AFP) - Ninth-ranked John Isner, fatigued after a first-ever Grand Slam semi-final at Wimbledon and an Atlanta title run, lost to 152nd-ranked Noah Rubin on Thursday at the ATP and WTA Washington Open.
Rubin, a 22-year-old American who lost to Isner in the French Open s first round, beat the second seed 6-4, 7-6 (8/6) at the rain-hit US Open tuneup event.
US second seed Isner blamed his low-energy outing in part on his busy recent schedule and also on the showers that delayed his opener to Thursday after an opening bye.
"For me, this could very well be a good loss. I need a little rest," Isner said. "There are some big tournaments coming up. I want to be full of energy for those. It s a blessing in disguise. That s the mentality I have to have."
Isner plays at Canada and Cincinnati the next two weeks in major tuneups for the US Open, which starts August 27.
Isner, who also won the Miami Open in March, surrendered a break in the penultimate game of the opening set. Rubin denied Isner on 7-of-8 break points while converting both of his break chances to win the first set.
"Noah played with more energy. He was just tougher than I was. He was hungry out there," Isner said. "I ve felt better but I ve also won matches when I ve been a little low on fuel."
Isner never managed another break point against Rubin, who won after 99 minutes when Isner sent a forehand smash long then netted a forehand.
A fourth day of showers delayed the start by 2 1/2 hours.
"It s unfortunate the rain has wreaked havoc so far. Noah dealt with it better than I did," Isner said. "It tires you out. It s mentally taxing. You re sitting around hours on end."
Isner lost an epic 26-24 fifth set to South African Kevin Anderson in the Wimbledon semi-finals. It was the second-longest match in Grand Slam history, lasting six hours and 36 minutes.
Rubin advanced to a later third-round match against Russian 16th seed Andrey Rublev, who eliminated American Tommy Paul 7-6 (7/5), 6-4.
"If I would have won, I don t know what I would have done," Isner said.
Also breaking into the final 16 was Australian Alex De Minaur, who upset US 11th seed Steve Johnson 6-4, 7-5 to book a later third-round date with South Korean eighth seed Chung Hyeon.
Three-time Grand Slam champion Andy Murray of Britain and third-ranked defending champion Alexander Zverev of Germany also were set for later third-round matches in the main stadium.
Top seed Zverev was set to face his older brother Mischa, seeded 15th, in their first ATP Tour matchup.
Murray, in his first hardcourt event since returning from an 11-month layoff with a right hip injury, was set to face Romanian Marius Copil.
On the women s side, Japanese third seed Naomi Osaka, the highest-ranked player in the field after reigning US Open champion Sloane Stephens and Australian Open champion Caroline Wozniacki exited, was to face Poland s Magda Linette.