Nishikori feeling 'tough' after overcoming wrist injury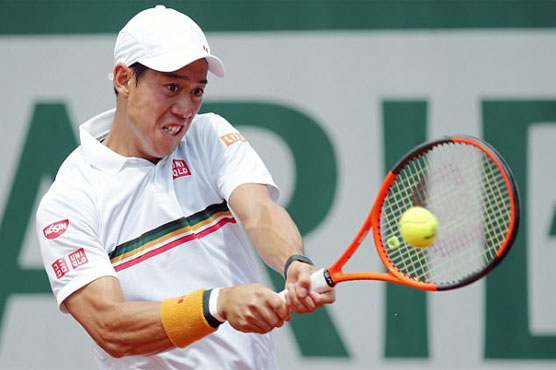 Nishikori has not won a title since taking the 11th of his career at Memphis in 2016.
WASHINGTON (AFP) - Japan s Kei Nishikori, back on form after a torn right wrist tendon, returns to the scene of his most recent outdoor title hoping to launch another strong US Open run.
The 28-year-old seventh seed enters the 50th Washington Open with confidence after his first Wimbledon quarter-final appearance, where he lost to eventual winner Novak Djokovic.
"After coming back from injury, I m enjoying the challenge this year," Nishikori said Monday. "I feel like I m going to be tough again. My wrist is OK now. I m going to try and get into the top 10 again. That s my goal and motivation."
Nishikori, the 2015 champion on the Washington hardcourts, has not won a title since taking the 11th of his career at Memphis in 2016. He has lost his past seven ATP finals, the most recent in May to Rafael Nadal on Monte Carlo clay.
Nishikori reached a career-best fourth in the rankings in 2015, but has tumbled after his six-month ATP wrist injury layoff since Canada last year. But this year he has begun to rebuild his ranking.
"Feeling great again. Had a couple days off after Wimbledon and started working again," Nishikori said. "I m trying to keep my intensity up. I got a little confidence going to the final at Monte Carlo.
"Still I feel it sometimes, but most of the time I m feeling great. Now I m enjoying playing tennis again."
Nishikori s best results in 32 Grand Slam appearances have come at the US Open, a runner-up showing behind Marin Cilic in 2014 and a 2016 semi-final loss to eventual champion Stan Wawrinka.
He also has reached three Australian Open quarter-finals and two French Open quarter-finals.
Nishikori received a first-round bye and will face either US qualifier Donald Young or Swiss wild card and three-time Grand Slam champion Stan Wawrinka in his opener.
"Both players are tough," Nishikori said. "I m going to have to play focused from the first match."
The Asian number one practised Monday with his top rival for the spot, 23rd-ranked Chung Hyeon of South Korea.
"I m very honored to be the number one Asian and Japan player," Nishikori said. "I don t feel any pressure from being number one in Asia. My goal is to be number one in the world."
Nishikori praised 287th-ranked countryman Yosuke Watanuki, a 20-year-old who battled through qualifying to reach his first ATP main draw.
"He has a great forehand, maybe better than me," Nishikori said. "I hope he does well. He s playing great enough to be top 100. Hopefully he does a big jump this summer."