Last Updated On 14 July,2017 11:18 am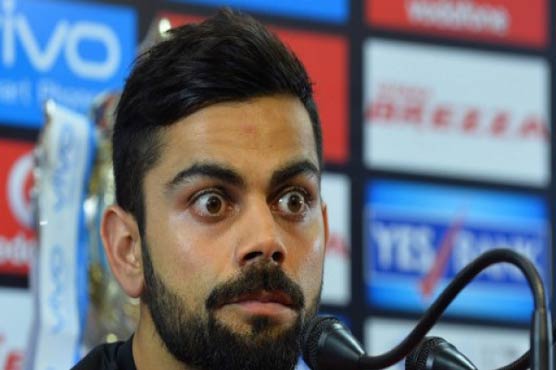 Kohli posted an image of another Indian women cricketer instead of his female counterpart
(Web Desk) - Indian cricket captain Virat Kohli became a laughing stock on social media when he posted the picture of another woman cricketer to congratulate Indian women's team captain Mithali Raj for completing 6000 ODI runs in the match against Australia in the women's World Cup.
Mithali became the first woman cricketer in history to achieve the milestone, and Virat Kohli took to social media to congratulate her on the achievement.
Kohli posted: "A great moment for Indian Cricket, @M_Raj03 becomes the highest run scorer in Women's ODI Cricket History today. Champion Stuff!".
However, Kohli made a mistake by posting an image of another India women's player instead of his female counterpart, Times Now reported.
Facebook users took no time to notice the error and mocked Kohli incessantly for his action. "The lady in the picture is Punam Raut not Mithali actually" said one user as he pointed out the mistake and other users latched on to give Kohli a hard time over his goof-up.
---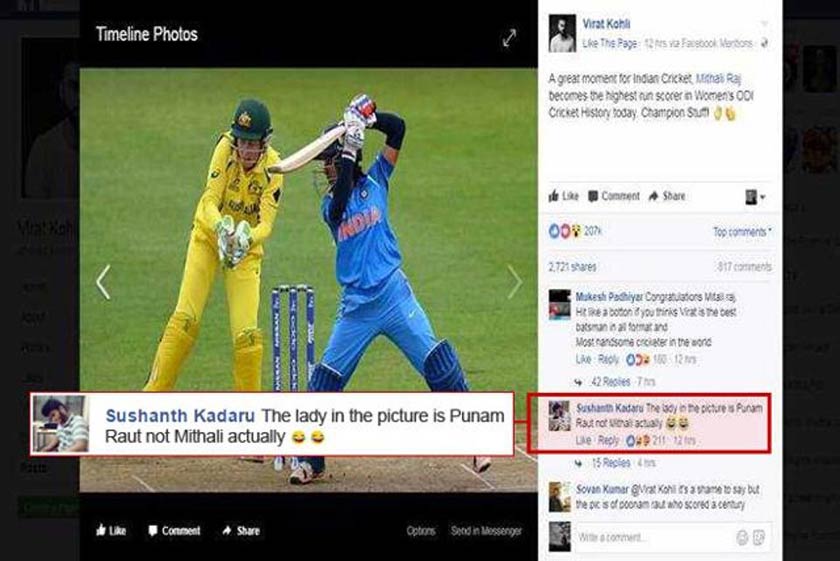 Kohli's Facebook page was laughed at by cricket fans who pointed out the mistake. Courtesy: Facebook
---
The post received a huge backlash as reactions flooded in criticising Kohli for his mistake and ignorance despite being a social media savvy cricketer. Later, the post was removed from Virat Kohli's official Facebook page.
On the other hand, some avid supporters tried to defend Kohli's lapse by suggesting that the cricketer's intentions came out of respect and he shouldn't be mocked for a mistake, The Indian Express reported.
Mithali Raj is the second highest run scorer in the tournament for India with 247 runs in six matches while Raut leads the pack with 277 runs from six matches.
However, despite Mithali Raj's record-breaking feat and Punam Raut's maiden World Cup century, India were beaten by Australia by eight wickets. Mithali Raj had walked out in the middle after Smriti Mandhana fell on the cheap early in the innings and went on to stitch a 157-run partnership with Punam for the second wicket.