Last Updated On 18 May,2017 11:59 pm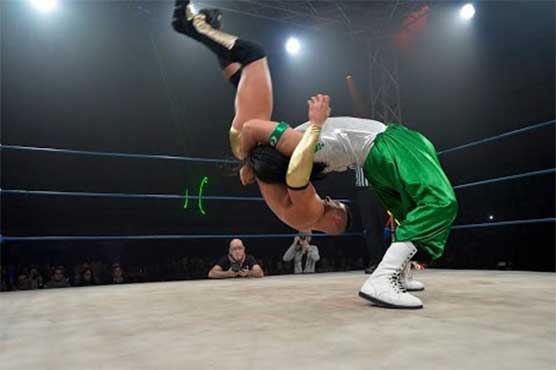 Preparations have been completed at Alhamra Cultural Complex for wrestling competitions
LAHORE (Dunya News) – Professional wrestlers have arrived in Lahore as Alhamra Cultural Complex is all set to host wrestling competitions.
A 25-member team was welcomed at a private hotel today. The preparations for the competitions have been completed in Alhamra Art Council.
---
VIDEO: Badshah Pehlwan beats Carlito
---
The wrestlers include Wade Barrett, Tango, Flesh, Zefy, Bambikiller, Yacine Osmani, Fabio Ferrari, Mr Jacky, Ludovic Vaillant, Angel s Bombita, Audrey Bride, Mickey Trash, Betty Trash, Omen, Aaron Rammy, Adam Flex Maxted, Bernard Vandamme and Xtreme Fury.
Foreign wrestlers will entertain the local crowd of the city. Pakistani wrestler Badshah Pehalwan has gained much attention with his style of knocking out the opponents.
People in Karachi enjoyed the professional wrestling competitions in which internationally acclaimed fighters put a great show. The crowd concluded the show with a huge round of applause.
Moreover, female wrestlers also took part in tough combats. One of the female wrestlers spoke Urdu and amazed the crowd.
The professional wrestling competitions will take place in Lahore. Islamabad will host the event on May 21.