Olympics: Taiwan top weightlifter suspended for doping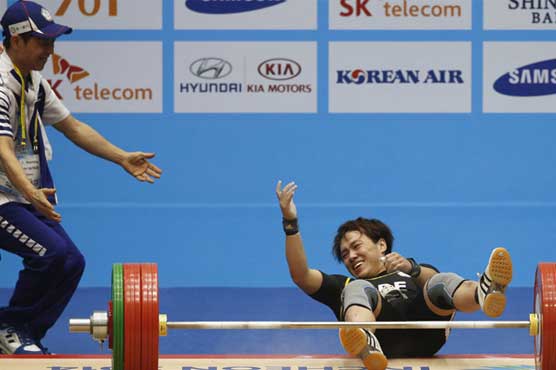 "We disappointed everyone in Taiwan."
TAIPEI (AFP) - Taiwan s former weightlifting world record holder Lin Tzu-chi was suspended from competing Tuesday in the Rio Olympics after failing a dope test, the island s delegation confirmed Wednesday.
After Lin s withdrawal, Chinese weightlifter Deng Wei took gold in the women s 63kg category, breaking Lin s combined world record with a total of 262kg.
The Chinese Taipei Olympic Committee said in a statement that a routine dope test of Lin "detected abnormal reaction."
They then temporarily suspended Lin from competing "to ensure spirit of fair competition of the sport" according to World Anti-Doping Agency rules, added the statement.
The 28-year-old was one of the favourites for gold after raising the world record to 261kg in winning the 2014 Asian Games gold in Incheon, South Korea.
Lin violated anti-doping rules before, missing the London 2012 Games after failing a test in 2010 and being suspended for two years.
Head of Taiwan s delegation Steven Chen apologised for the incident in Rio, according to Taiwan media reports.
"I take full responsibility for a failure to win a medal in the weightlifting event," he was quoted as saying by the Focus Taiwan News Channel website.
"We disappointed everyone in Taiwan."
Women s weightlifting has been a strength for Taiwan, with Hsu Shu-ching winning gold in the women s 53kg on Monday.