PTI leaders Yasmin Rashid, Omar Cheema remanded in new criminal case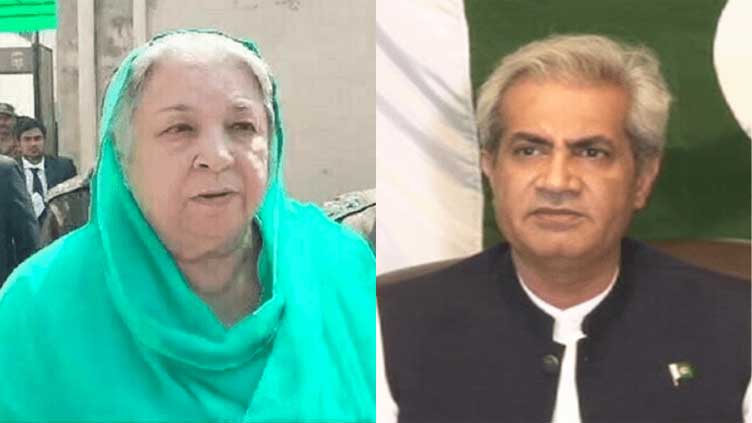 Pakistan
PTI leaders Yasmin Rashid, Sarfaraz Cheem remanded in new criminal case
LAHORE (Web Desk) – Pakistan Tehreek-e-Insaf (PTI) leaders Yasmin Rashid and Omar Sarfaraz Cheema, already held in multiple cases tied to May 9 events, faced a fresh arrest linked to an attack on ex-PM Shehbaz Sharif's Model Town residence.
They appeared before a court in Lahore, where they were remanded to jail for 14 days.
In court today, fresh charges against Yasmin and Cheema were detailed in a supplementary statement by the police. Allegedly, on May 9, a group including PTI leaders attempted to breach the gates of the PM House, instigating around 800-900 supporters armed with clubs and stones, threatening staff and attempting to start a fire.
The charges listed include obstruction of public servants, creating public nuisance, intimidation, mischief by fire, rioting, theft, and even terrorism charges. Despite a request for a 30-day remand to gather evidence, the court granted a 14-day judicial remand, rejecting the police's request due to a lack of evidence linking the accused to weapons or likely possession.
PTI chairman's arrest triggered widespread violence, leading to a crackdown on his party by the state. Shehbaz Sharif, who was premier at the time, had his residence designated as the Prime Minister's House.
Recently, Punjab police intensified action against PTI workers and activists, making numerous arrests across the country, based on a list of 884 individuals marked as targets, most identified as the 'B team' of PTI's leadership.