Justice Mazahar Naqvi challenges SJC proceedings against him in SC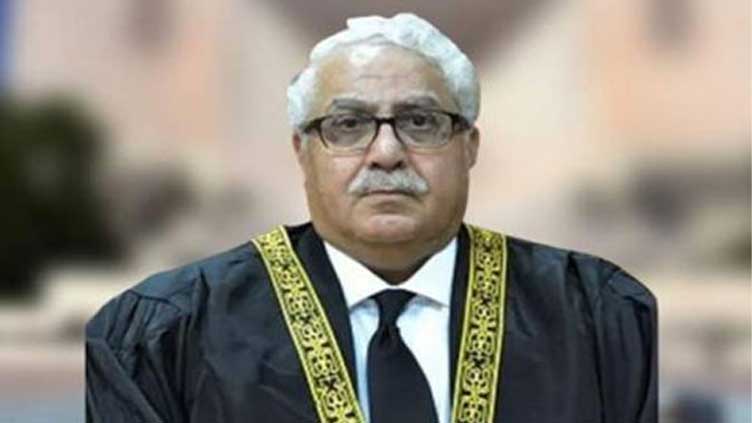 Pakistan
Says Council's notice issued to him should be declared illegal
ISLAMABAD (Dunya News) – Justice Mazahar Ali Naqvi of the apex court has challenged Supreme Judicial Council's proceedings against him in the Supreme Court of Pakistan.
Justice Mazahar Naqvi has requested the Supreme Court to stop the SJC from taking any action against him by terminating its proceedings.
He further pleaded that Council's notice issued to him should be declared illegal.
SJC TO HEAR REFERENCES AGAINST JUSTICE MAZAHIR NAQVI TODAY
The Supreme Judicial Council (SJC) will begin hearing of references against Justice Mazahir Naqvi today (Monday), Dunya News reported.
The Supreme Judicial Council has sought complete records of two properties in Lahore in the name of Justice Mazahir Naqvi. Complete records of Plot No. 144 Block F-One in Gulberg 3 Lahore and Plot No. 100 St. John's Park in Lahore Cantt have been sought.
The concerned government departments have been asked to appear before the SJC along with records regarding the two properties at 3:00pm. The Supreme Judicial Council has issued notices to all relevant officers under Article 210 of the Constitution.
Mian Dawood, a Lahore based lawyer, on February 23 had filed a complaint against Justice Naqvi for allegedly violating the code of conduct for judges of the Supreme Court issued under Clause (8) of Article 209 of the Constitution and accused the judge of "misconduct" and "amassing illegitimate assets".
SJC is a constitutional body that probes allegations of misconduct against the judges of Supreme and high courts. It comprises the chief justice, two senior-most SC judges and two senior-most high courts' chief justices.