Nawaz Sharif links Pakistan's progress to holding 2017 conspirators accountable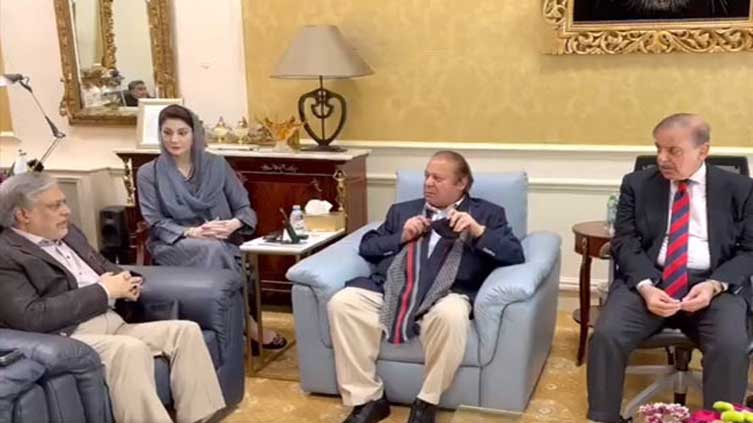 Pakistan
Nawaz Sharif links Pakistan's progress to holding 2017 conspirators accountable
LONDON (Dunya News) – Nawaz Sharif, the head of the Pakistan Muslim League-Nawaz (PML-N), asserted Friday that Pakistan's path to progress cannot be realised until all the characters involved in the conspiracy which nearly brought the country to ruins in 2017 are held accountable.
Speaking at an impromptu party gathering in London, the former prime minister highlighted that in 2017, a prosperous Pakistan was pushed to the brink of disaster through a plot that put amateurs in leadership positions. He underscored the importance of adhering to the law in addressing the culprits behind this conspiracy.
Nawaz Sharif went on to allege that former chief justices of Pakistan, Saqib Nisar and Asif Saeed Khosa, along with Supreme Court Judge Azmat Saeed, were also part of this conspiracy and should be considered as responsible for the country's predicament.
— PMLN (@pmln_org) September 22, 2023
PML-N President Shehbaz Sharif shared that the primary agenda of the meeting was to discuss the arrangements for Nawaz Sharif's return to Pakistan.
Prior to the hasty London meeting, Shehbaz Sharif interacted with the media, revealing that Nawaz Sharif had summoned him for an urgent consultation. He clarified that there had been no change in the planned date for Nawaz Sharif's return to Pakistan, dispelling speculations on the matter.
Shehbaz refrained from commenting on rumors surrounding Nawaz Sharif's return, promising that a response to such speculations would be provided soon.
Read also: Maryam puts rumours about Nawaz's homecoming to rest
PML-N leader Maryam Nawaz meanwhile indicated that extensive preparations were underway to welcome Mian Nawaz Sharif back to Pakistan, with today's meeting focusing on reception plans and other relevant matters.
In attendance at the London meeting were prominent PML-N figures, including Shehbaz Sharif, Maryam Nawaz, Mian Javed Latif, Talal Chaudhary, Abid Sher Ali and others.