30 dead, 70 injured as 11 bogies of Hazara Express derail near Nawabshah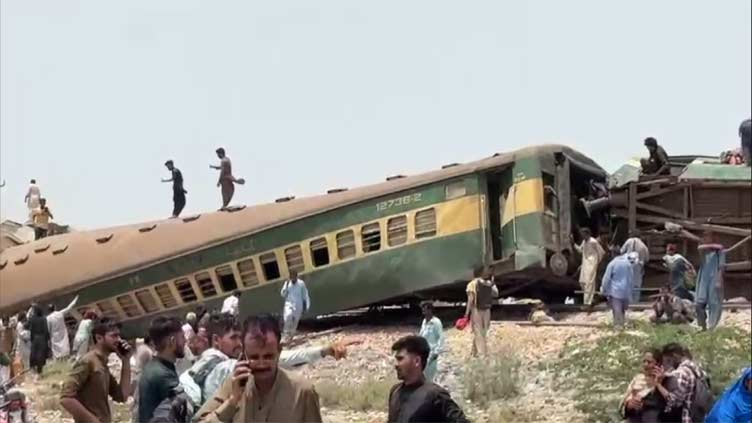 Pakistan
An emergency has been declared in nearby hospitals
NAWABSHAH (Web Desk) - At least 30 passengers were killed and 70 others suffered injuries after 11 bogies of Hazara Express derailed near Sarhari Railway Station, located between Shahzadpur and Nawabshah, on Sunday, witnesses and police said.
Dunya News reported that the train was on its way from Karachi to Rawalpindi when at least 11 of its bogies derailed.
The passenger train was carrying a good number of passengers. Locals and passengers launched rescue activities and started pulling the trapped passengers out of wreckage of derailed bogies.
An emergency has been declared in nearby hospitals while the rescue operation is also underway. The injured victims are being shifted to People's Medical Hospital Nawabshah.
The cause of derailment is not yet known as officials reached the scene to probe the incident. Train operations on the up track have been put on suspension after the incident.
Read more: Allama Iqbal Express escapes major disaster near Padidan
Railways Divisional Superintendent Sukkur Mahmoodur Rahman confirmed that 10 bogies had gone off track in the train crash. More details are being obtained, he added.
He said a train has been dispatched from Kotri for assistance.
Pakistan Army troops also joined the relief activities at the site of accident on the directions of Chief of Army Staff (COAS) General Asim Munir.
Additional troops were also called in from Hyderabad and Sakrand with army aviation helicopters.
The carriages of Hazara Express derailed in Nawabshah: Pakistan Army and Rangers started immediate relief activities at the accident site

The Army Chief has issued special instructions to Pakistan Army and Rangers for relief activities. Rescue teams of Pakistan Army and Rangers… pic.twitter.com/1edxuMQ2Do

— PTV News (@PTVNewsOfficial) August 6, 2023
Railways and Aviation Minister Khawaja Saad Rafique said he had been informed about the incident and that he is seeking basic information about the incident.
Addressing a press conference, he said either someone could have "deliberately" caused the accident or it could also be a mechanical fault.
Rafique said the priority is to provide relief to the victims ad and then investigate the incident. He said the train was travelling at a reasonable speed of 45km per hour, adding officials had reached the scene and an emergency was imposed in hospitals in Sukkur and Nawabshah.
Meanwhile, Sindh Chief Minister Murad Ali Shah expressed grief over the lives lost in the incident and directed the Nawabshah deputy commissioner to provide the injured with immediate medical assistance.
A day earlier three coaches of Allama Iqbal Express, that was heading to Sialkot from Karachi, derailed. No one suffered injuries in the incident.