Nawaz Sharif will himself decide to return, says Sanaullah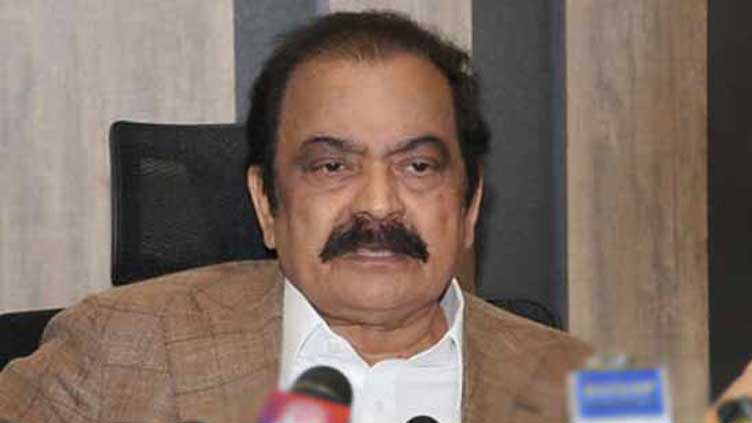 Pakistan
PML-N should not opt for the political alliance in next elections: Sanaullah
ISLAMABAD (Dunya News) – In connection with the return of Pakistan Muslim League-Nawaz (PML-N) supremo Nawaz Sharif back to the country, Interior Minister Rana Sanaullah said on Friday that it was up to the former premier to decide his return.
Speaking to media, Mr Sanaullah made it clear that Mr Sharif will give the date of his return to the country himself, adding that no one with the exception of the PML-N supremo can give the date of his return.
He asserted, "Mr Sharif will return to the country 60–90 days before the general election. "If the PML-N bags a majority in the next elections, the next premier will be picked up by Nawaz Sharif."
"The party has not taken any decision in line with the seat adjustment or political alliance," Mr. Sanaullah added.
He said, "I am of the opinion that the PML-N should not opt for the political alliance in the next elections".
On Wednesday, Mr Sanaullah alleged that according to evidence, the PTI chief was the mastermind of the May 9 attacks.
Talking to a private news channel, he said the person who attacked PTV and attempted to launch a disobedience movement against the state in 2014, trained a few people and plotted the vandalism executed on May 9 across the country.
Rana Sanaullah said the PTI members first created the slogan 'the arrest of Imran Khan is our red line' and his arrest will ruin the country are expecting to be treated as political workers which will not happen.
The PTI after crossing the line is demanding the political and human rights, he blamed.
There are evidences of links of these people with external forces to create chaos and unrest in the country. It will take time to complete the inquiry, he said adding that strict action would be taken against the culprits.
The government was compiling more evidence of arson and vandalism executed on May 9.