No leniency with May 9 miscreants, says Rana Sanaullah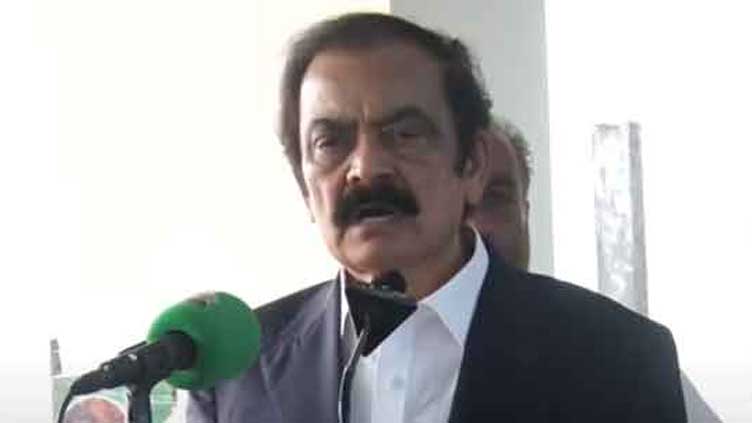 Pakistan
Kashmir is lifeblood of country: Rana Sanaullah
BAGH (Dunya News) – Interior Minister Rana Sanaullah on Tuesday reiterated that the May 9 miscreants would be brought to justice at any cost.
Addressing an event, Mr Sanaullah took a jibe at the embattled Pakistan Tehreek-e-Insaf (PTI), saying, "PTI has indulged in the culture of using foul language. It has been portrayed that the PTI is the red line".
"The PTI chief attacked the judiciary to avoid arrest. Police were also attacked in Zaman Park. After his capture, the state was attacked through proper planning. After the attack on military installations, PTI's position is that this is our political protest," Mr Sanaullah maintained.
Mr Sanaullah heaped praise on PML-N supremo Nawaz Sharif, saying, "PML-N and Nawaz Sharif brought the country out of the swamp in the past. Nawaz Sharif is a leader who believes in democracy. All the big projects have been completed during the tenure of Nawaz Sharif."
Speaking about Kashmir, Mr Sanaullah said, "Pakistan and Kashmir are one soul and inseparable. Kashmir is the lifeblood of the country".
On Sunday, Mr Sanaullah fired a salvo at the PTI.
Speaking to media, Mr Sanaullah made it clear that instigators would not be tolerated. "Those who attacked the military installations will be brought to justice. The writ of the state will be upheld at any cost," added Mr Sanaullah.
"Those who claimed to end corruption were themselves involved in the menace. Apart from making claims, the PTI had done nothing for the country," Mr Sanaullah maintained.
He schooled the PTI, saying, "Since 2014, PTI has resorted to the tactics of using foul language. The PTI also taught its workers to use foul language."
Read also: Atta Tarar holds PTI chief responsible for lawyer's murder in Quetta
Mr Sanaullah recounted, "Within a year, we would have started development projects again."
Separately on Saturday, Special Assistant to Prime Minister (SAPM) Attaullah Tarar said that the May 9 was a black day when only a handful of miscreants attacked the security installations.
He added that in response to the 190 million pound corruption case, entire country was set on fire mentioning violent incidents must be answered.
Talking about the treatment of women in prisons, Mr Tarar stressed that propaganda was being done about women in prison mentioning that those involved in the May 9 incidents would be punished.
He said he had apologised to the brother of the late Col Sher Khan over the incident of May 9, adding even enemy was aware of his bravery.
The SAPM said that the money coming from the UK was deposited in the Supreme Court account while the envelope sealed in the cabinet was approved while mentioning the accountability czar of former premier Imran Khan Shahzad Akbar should come to Pakistan and face the cases.