Qureshi released from jail after LHC declares arrest illegal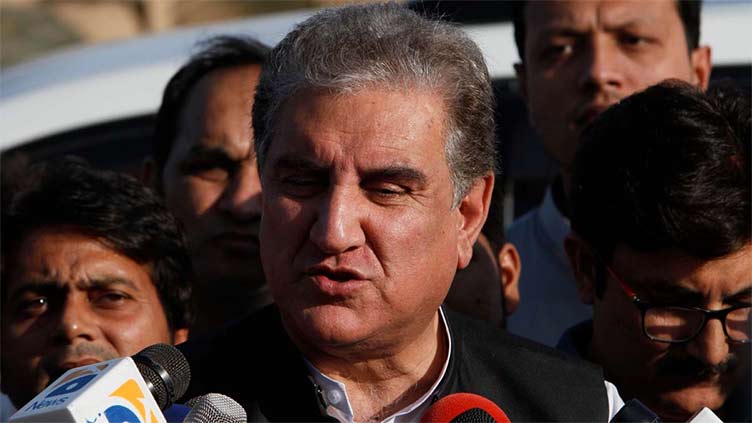 Pakistan
Qureshi has been arrested multiple times since his first arrest
RAWALPINDI (Dunya News) - As the Lahore Court (LHC) Rawalpindi bench on Tuesday declared PTI vice chairman Shah Mehmood Qureshi's arrest illegal, he was released from Adiala jail.
After coming out of the jail, he said he would meet PTI chief, share his political insight, and seek his guidance.
Earlier, the LHC Rawalpindi bench ordered immediate release of Mr Qureshi, who was arrested for his alleged involvement in the May 9 violent protests.
Former foreign minister Qureshi has been arrested multiple times since his first arrest.
While hearing a petition against his arrest, the bench ordered that Qureshi should not be arrested under the Maintenance of Public Order Ordinance (MPO) anymore.
Justice Chaudhry Abdul Aziz, who heard the case, also declared Rawalpindi deputy commissioner's MPO orders illegal and directed authorities to immediately release Qureshi without asking him to submit surety bonds.
Assistant Attorney General Abid Aziz Rajouri represented the government, while lawyer Taimoor Malik appeared on behalf of Qureshi along with his daughter.
Justice Aziz questioned the law officer whether Qureshi had delivered any speech or led any protest. "No political leader can control his words in a political gathering," the court remarked while directing the law officer to present evidence against the PTI leader.
At this, the official sought two days for the submission of evidence. However, the court directed him to update the court within an hour after taking directives from the government. The court then adjourned the hearing for an hour.
Meanwhile, the Punjab police presented a report on the cases against Qureshi.
According to the report, nine cases have been registered against Qureshi across Punjab. Four of these cases are registered in Lahore, while five cases are registered at police stations in Multan.
The report was submitted upon the request of the PTI leader's daughter.
Justice Aziz remarked that let bygones be bygones, it should not happen in the future, it is not a joke.