SC directs JI to take up KE privatisation matter in parliament as petition wrapped up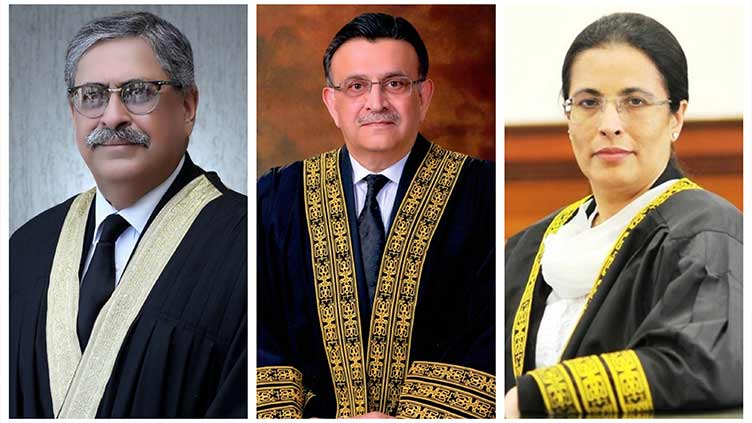 Pakistan
Justice Minallah says JI should take up the matter in parliament
ISLAMABAD (Dunya News) – The Supreme Court on Tuesday disposed of a petition filed by Jamat-e-Islami (JI) against the privatisation of the Karachi Electric, the only power distribution company in the southern port city.
A three-member bench, headed by Chief Justice Umar Ata Bandial, and comprising Justice Ayesha A. Malik and Justice Athar Minallah, issued the ruling.
The top court has approved the JI's plea seeking permission to take up the matter with the National Electric Power Regulatory Authority (Nepra) and the Council of Complaint.
During the hearing, CJP lauded the efforts made by the JI to create political consensus in the country. However, he excused from intervention in economic affairs, saying it was not possible for the court to dig deep in the KE's privatisation matter.
Justice Minallah said the petition filed in the apex court was against the economic policy of the government. He remarked that the JI was part of the parliament and it should take up the matter there.
At which, JI lawyer Rasheed A Rizvi the judiciary was approached when the parliament failed to deliver. "Don't say that parliament has failed," Justice Minallah interjected, saying: "Respect the parliament".
Instead of moving the court, the JI should take up the matter regarding privatisation of the KE in the parliament, adding: "Such measures will strengthen the parliament".
At one point, Justice Malik remarked how could the top court suspend the privatistion of the Karachi Electric. regarding the electricity price, she said it was the Nepra's jurisdiction to determine the tariff.
Previous Hearing
On Monday, CJP Bandial had remarked that the court would not intervene in matters related to economy as it had no expertise to deal with it.
The top judge made the remarks while hearing the case regarding privatisation of the Karachi Electric (KE). "We will not interfere in economic matters as we don't have experience of it," he said.
The CJP told the petitioner's lawyer, Rashid A Rizvi, that he could approach the relevant court in this regard.