PM Shehbaz departs for Turkiye to attend Erdogan's oath-taking ceremony today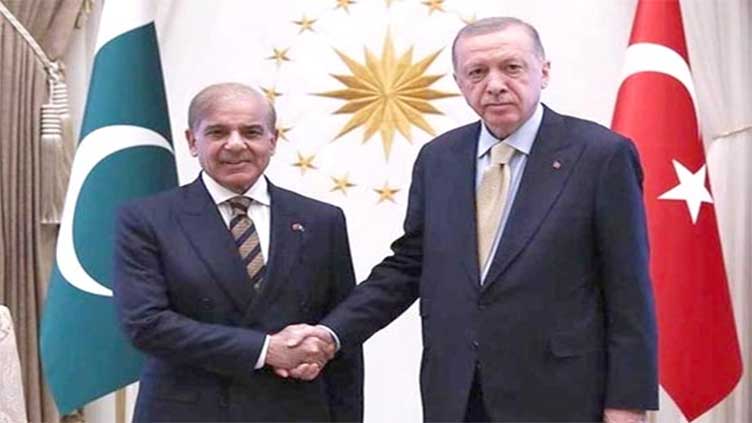 Pakistan
Recep Tayyip Erdogan will take oath as Turkiye's president on June 3
ISLAMABAD (Dunya News) – Prime Minister Shehbaz Sharif on Friday left for Turkiye to attend the inauguration ceremony of Turkish President Recep Tayyip Erdogan on June 3 (Saturday).
The premier has accepted an invitation from President Erdogan to visit Turkiye, marking a significant development in the diplomatic ties between the two nations. Erdogan was re-elected to his office on May 28.
Announced during a weekly briefing at the foreign office on Wednesday, spokesperson Mumtaz Zehra Baloch confirmed that Prime Minister Shehbaz will embark on his visit to Turkiye on June 3.
During his visit, PM Shehbaz would also invite President Erdogan to Pakistan.
During the briefing, Ms Baloch highlighted that the prime minister's visit to Turkiye is a testament to the deep-rooted friendship between the two countries. The trip signifies the commitment to further enhance cooperation and collaboration in various sectors.
The forthcoming visit is expected to encompass a range of discussions and agreements on trade, defense, tourism, and cultural exchanges. Both leaders are likely to engage in talks to explore avenues for increased economic cooperation and investment opportunities.
Turkiye has historically been a significant ally of Pakistan, with the two nations sharing common interests and standing together on regional and international issues.
This visit is anticipated to solidify their longstanding friendship and pave the way for stronger bilateral ties.