9/5 attackers can't escape, IMF watching situation critically: Ishaq Dar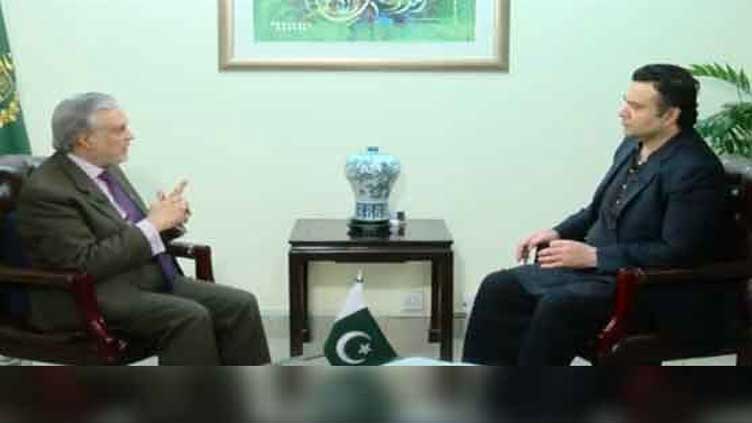 Pakistan
Those who attacked military installations would be tried under Army Act: FM
LAHORE (Dunya News) - Federal Finance Minister Ishaq Dar said that international financial institutions, including the International Monetary Fund (IMF), are monitoring the political situation in Pakistan.
The Fund questions when stability is to be achieved, the FM stated.
The finance minister while speaking in 'On The Front With Kamran Shahid' said that if someone targets military installations, they will be tried under the Army Act. There is a 90% chance that PTI chief designed the attack himself, and if proven, no one will be above the law.
The National Security Committee has decided on a principle that spares the innocent but punishes the involved. Ishaq Dar believes that sedition and fascism have replaced political parties, and this development is detrimental to the country.
The finance minister asserted that the law should be equal for all, and no one should be exempt from punishment.
He said that if Maryam Nawaz can be arrested why not Bushra Bibi?
The PTI is alleged to have abused women, and this is unbecoming of a political party, Mr Dar said. Moreover, he clarified that there are smugglers who are taking wheat, fertilizer, and dollars to neighboring countries, potentially harming Pakistan's economy.
All the IMF's conditions have been met, and the programme will conclude by June 30, 2021. However, the economy cannot be fixed overnight, and time is required to effectively reform it.
He further said that Rs42 billion had been allocated for the election of the entire country, but the budget would not burden the people, and efforts would be made to provide maximum relief to the salaried class. Finally, the finance minister remarked that there are questions surrounding Nawaz Sharif's health and his return. Responding to a query on PTI's dissidents he said that his party had its own candidates to consider.