Audio leaks: IHC bars NA committee from proceeding against ex-CJP's son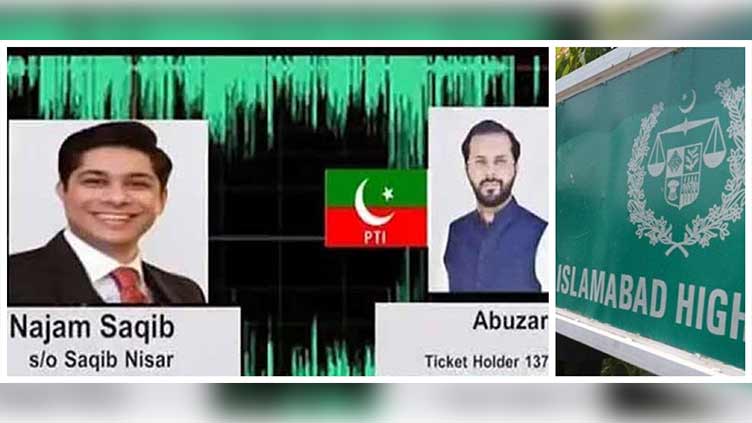 Pakistan
"Who records these audios," Justice Sattar asks during the hearing
ISLAMABAD (Dunya News) – The Islamabad High Court (IHC) on Wednesday barred the parliamentary committee from proceeding against former chief justice of Pakistan Saqib Nisar's son in a matter related to an audio leak.
IHC's Justice Babar Sattar issued the order while hearing a petition filed by ex-CJP' son Najam Saqib against the constitution of the committee. He took up the case after dismissing objections raised by the Registrar Office on the petition.
Earlier this month, National Assembly Speaker Raja Parvez Ashraf formed a ten-member committee, with Mohammad Aslam Bhootani as its chairman after the alleged audio leaks of Najam Saqib with his accomplice Mian Uzair regarding the trade of PTI ticket made waves on the social media.
Enraged over the development, the son of the former top jurist challenged the constitution of the parliamentary committee in the IHC. The petitioner called the committee illegal, arguing that the speaker had no authority to form it.
"The Secretary National Assembly has issued a notice on May 25 and summoned my father in person before the committee," reads the petition.
"The notice has been sent without a meeting of the parliamentary committee," Najam Saqib said while asking the court to declare the committee unlawful and suspend its operation. "The committee should be restrained from any action before decision on the petition," he pleaded.
During Wednesday's hearing, Justice Sattar inquired under which authority the special committee had issued the notice. He directed the government to submit para-wise comments in the case.
"Is this a special committee?" the judged asked. The petitioner's lawyer replied that rules for forming the special and ordinary committees were same.
In reply, Justice Sattar told the lawyer that they would have to make the relevant ministry a party in the case.
The lawyer said no ministry was involved in it as the committee had been formed by the speaker. He said, "We have only challenged that the speaker and the National Assembly do not have the power to look into a private matter". He added that they had not challenged the matter pending with the Supreme Court.
He argued that parliament had no power to look into the matter of the two private people.
At one point, Justice Sattar asked: "Who records these audios". He also summoned a reply from the government in this regard and adjourned the hearing.