Govt asks three SC judges to recuse themselves from audio leaks commission case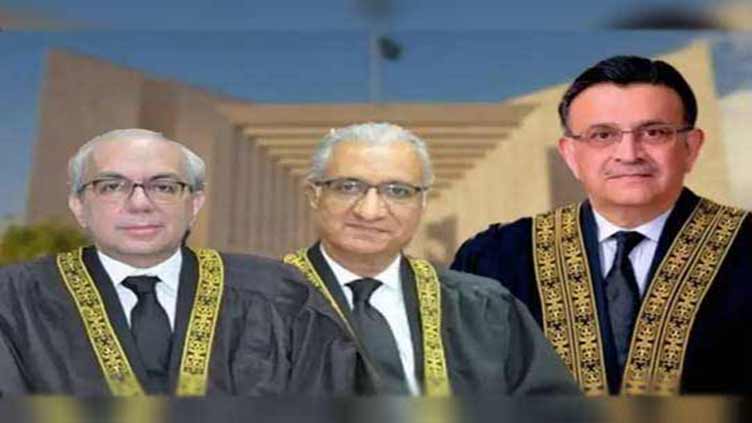 Pakistan
Notes matter relates to them
ISLAMABAD (Dunya News) – Objecting to the composition of the five-member Supreme Court bench, the federal government on Tuesday pleaded that three of those judges should recuse themselves from the audio leaks case.
In an application, the federal government argued that Chief Justice Umar Ata Bandial, Justice Ijazul Ahsan and Justice Munib Akhtar should not hear the matter and a new bench be formed for the purpose. Justice Shahid Waheed and Justice Hasan Azhar Rizvi are the other members of the bench.
The federal government seemingly banked on the principle of conflict of interest, as it gave the reason that one of the audio leaks concerned Chief Justice Bandial's mother-of-law while the matter also involved Justice Ahsan and Justice Akhtar.
According to the application, previous court decisions and the judges' code of conduct make it clear that no judge can hear a case involving his relative. In the past, the then chief justice Iftikhar Muhammad Chaudhry had recused himself from the bench hearing Arsalan Iftikhar case.
The five-member bench will resume the hearing on Wednesday (tomorrow) after stopping the inquiry commission from investigating the matter.
Last week, the Supreme Court had halted the operations of the audio leaks commission following the order issued on the petitions filed by Imran Khan and others. The judgement, relying heavily on the principle of separation of powers, stated, "In as much as the Federal Government appeared to have acted unilaterally in this matter, a constitutional principle of the highest importance had been, prima facie, breached".
"In the circumstances, till the next date of hearing, the operation of the impugned notification ... issued by the Federal Government is suspended as is the order made by the Commission and in consequence thereof proceedings of the Commission are stayed," the judgment read.
A day later, the commission – headed by Supreme Court Justice Faez Isa and comprising Balochistan High Court Chief Justice Naeem Akhtar Afghan and Islamabad High Court Chief Justice Aamer Farooq – stopped further proceedings. However, Justice Isa remarked they had been barred from moving ahead with the process without even issuing a notice to them.
Earlier, the federal government had formed a three-member commission to investigate the leaked audios allegedly involving the judiciary and former chief justices and a judge, saying the conversations had raised apprehensions over impartiality of judges.