Imran Khan sends Rs10bn defamation notice to health minister over controversial presser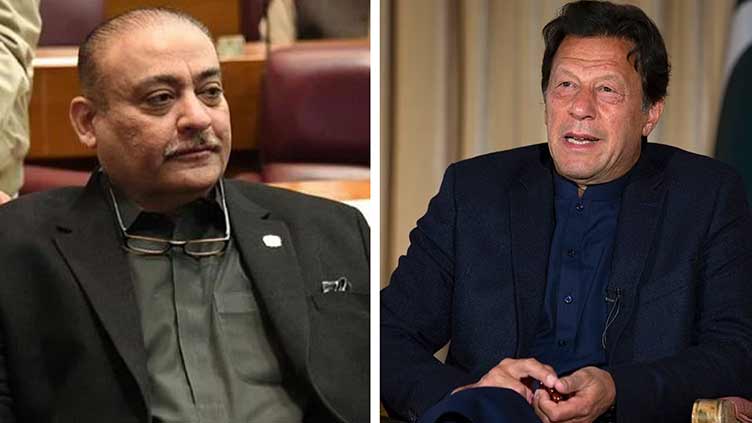 Pakistan
'How alcohol and cocaine consumption can be traced through a urine test?' reads the notice
ISLAMABAD (Dunay News) – Pakistan Tehreek-e-Insaf (PTI) chief Imran Khan on Tuesday sent a defamation notice to Federal Health Minister Abdul Qadir Patel for alleging that traces of alcohol and cocaine were found in the former's urine analysis.
The former premier has sent the legal notice through his lawyer Abuzar Salman Khan Niazi under the Defamation Ordinance, 2002 over "dissemination and circulation of wrongful, baseless, false, misleading, erroneous, malicious and defamatory information" against Imran Khan during the minister's May 26 press conference.
It said Mr Patel dishonestly alleged that the medical tests of the PTI chief showed traces of alcohol and cocaine in his urine sample and that the "mental stability" of Imran Khan was "questionable".
"How alcohol and cocaine consumption can be traced through a urine test?" it is one of the questions raised in the notice. It also highlighted that there were not details of a full trauma examination of the former prime minister.
"The report emphasises a lot on mental state of our client [Imran Khan]; however, no details of mental state examination have been provided," it stated.
The minister, the notice said, made the remarks "knowingly, consciously, willingly, deliberately and maliciously which is highly irrational and negates the principles of ethics and morals". It added that derogatory remarks were "also in violation of the standards and ethics which members of [the] Federal Cabinet must possess and display".
The notice said Mr Patel was "responsible and liable for the defamatory circulation and dissemination" which caused "a loss" to the PTI chief's "goodwill, injury to his reputation and adversely affected his honour". "Likewise, you have also caused emotional trauma, mental agony, anguish and distress to our client," read the notice.
Mr Khan has demanded the minister to retract his comments and tender an unconditional apology, besides admitting that had committed a mistake.
It also asked the minister to pay "Rs 10 billion for defaming…and levelling false allegations" against the PTI chairman, adding that the money would be "donated to Shaukat Khanam Memorial Cancer Hospital" for treatment of patients.
The minister has been warned of further legal action in case he fails to fulfill the demands within 15 days.