May 9 tragedy: Khawaja Asif rules out establishment of new military courts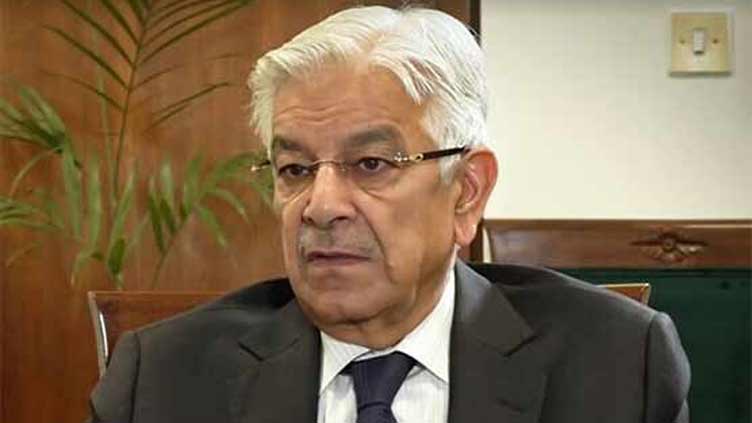 Pakistan
Terms attacks on military installations an attack on integrity and existence of Pakistan
SIALKOT (Dunya News) – Defence Minister Khawaja Asif said on Sunday that no new military courts were being established to try those involved in vandalising military installations on May 9.
Police have arrested over 3,000 Pakistan Tehreek-e-Insaf (PTI) workers and supporters for their vandal attacks at the military installations in various cities during the protests which erupted following arrest of their party chairman Imran Khan in the Al-Qadir Trust case.
Talking to media, Mr Asif said law and courts already existed, adding that the cases against the violent elements would be tried in these courts.
Saying the government was not snatching the basic rights of anyone, the minister said cases would be pursued against those who had been identified through footage of attacks on military installations.
He termed the attacks on military installations an attack on integrity and existence of the country. He said attacks on airbase were conducted by an enemy not a patriot. The defence minister said he did not differentiate between the attack on GHQ, Lahore Corps Commander's house, Mianwali airbase and the attack by arch-rival India on the Sialkot memorial.
He said those who attacked military installations will be treated as enemy of Pakistan and would be punished under the law. "I don't doubt anyone's patriotism but the May 9 attacks have raised questions on their intentions," Mr Asif said.
He said the PTI leadership was targeting the institutions, adding that Imran Khan was also attempted to involve foreign countries in it.
The defence minister said people of Pakistan loved their armed forces, adding that the sacrifices rendered by the Pakistan Army were golden part of Pakistan's history.
Earlier, Khawaja Asif participated in a rally carried out in his hometown Sialkot to express solidarity with armed forces.