Maryam fires a broadside at PTI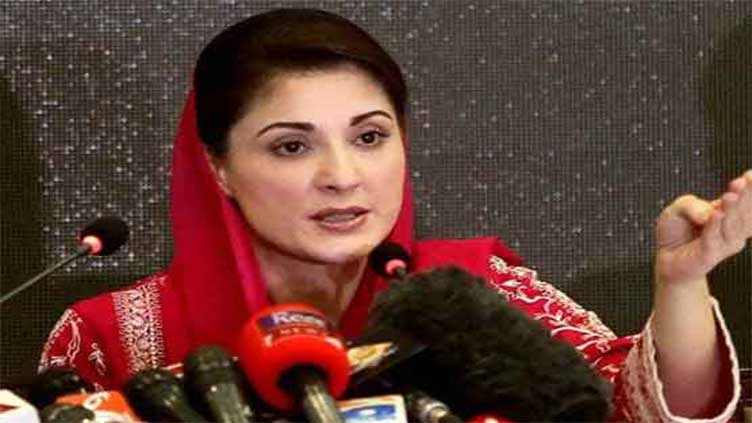 Pakistan
Alleges conspiracy to undermine youth
LAHORE (Dunya News) – Pakistan Muslim League-Nawaz (PML-N) chief organiser Maryam Nawaz addressed a review meeting on Thursday, expressing concerns over an alleged conspiracy by Pakistan Tehreek-e-Insaf (PTI) to undermine the youth and Pakistan as a whole.
She accused the perpetrator (Imran Khan) on May 9 vandalism, whom she referred to as the "thief of 60 billion," of manipulating youth to conceal his own misdeeds.
The meeting, chaired by Maryam Nawaz, vice president of the PML-N, focused on assessing the progress of the Muslim Students Federation (MSF) across the country.
During her address, Maryam Nawaz praised the registration of over 50,000 male and female students in Punjab within a month, considering it a positive development.
She emphasised that the purpose of empowering the MSF was to educate and train the younger generation based on ideological principles, aiming to create a "Building Pakistan Force" encompassing sons and daughters from all corners of the nation.
The daughter of former Prime Minister Nawaz Sharif expressed her belief that future leadership should emerge from the youth and stressed the need to cleanse society from the effects of sabotage.
She alleged that the "thief of 60 billion" had orchestrated a systematic plan, turning young workers into a force of sabotage to conceal his own misappropriations.
Maryam Nawaz further stated that the participation of the youth in education, health, and positive activities is crucial for Pakistan's development. She asserted that the nation needed to counter the dissemination of lies that had sown seeds of hatred in the minds of the misled youth.
Ms Nawaz underscored the importance of instilling patience, tolerance, knowledge, and awareness among the younger generation, particularly.
Senior vice president PML-N Maryam Nawaz, stressed the necessity of differentiating between forces that construct and those that destroy.
She urged the youth not to be misled by the desires of troublemakers, agitators, and political thugs. She vowed to prevent them from becoming fuel for the fire, asserting that the alleged thief (Imran Khan) responsible for the ToshaKhana scandal had devastated the country's economy, businesses, and employment opportunities for the youth.
However, she expressed confidence that the economy would recover, businesses would resume, and the youth would find employment in due course.