Will see what I can do if reference filed against CJP Bandial, says President Alvi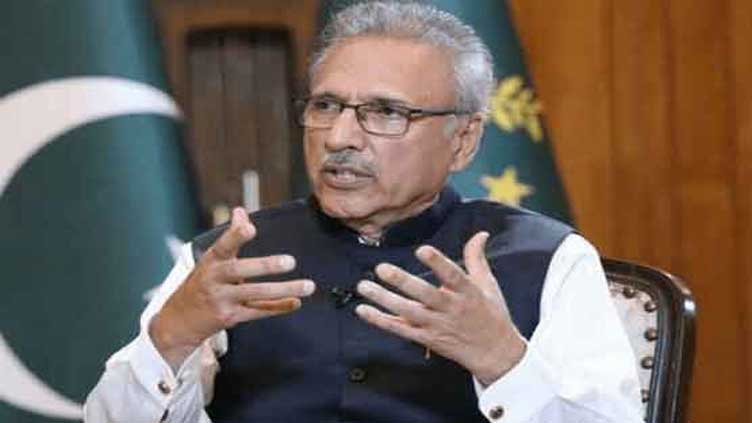 Pakistan
Elections held even when army conducted anti-terror operations
ISLAMABAD (Dunya News) – President Dr Arif Alvi on Wednesday said if a reference was filed against Chief Justice of Pakistan (CJP) Umar Ata Bandial, he would see what he could do with it.
Speaking to a private TV, he said he wished God had saved CJP Bandial from the reference adding that politicians should sit and talk. "There is no way out other than elections," he added.
Elections were held even at times when the army was conducting anti-terror operations in the country, he said.
Read Also: Govt may file references against CJP, two SC justices for 'going against PML-N': Sanaullah

Mr Alvi said lack of funds should not be used as an excuse to postpone elections in a democratic country. "The apex court would decide on the date for elections," he added.
He went on to say that it was also illogical to postpone elections due to the census adding that the government wanted to use it as an excuse. "Assembly could be dissolved at any time in a democracy," he added.
The Election Commission of Pakistan was under the government's influence, he claimed. "It is the ECP's responsibility to hold free and fair elections," he added.
Know More: SC issues notices to top officers for failing to provide funds for elections

He alluded that India's electoral body was so transparent that there did not even exist the concept of a caretaker setup.
The president went on to say that sometimes good decisions could be taken in bad moments adding that the parliament was not complete at the time. "I will not respond to Prime Minister Shehbaz Sharif's letter," he added.
Mr Alvi claimed that Pakistan would neither default on payments nor derail from the path of democracy. "Martial law should not be imposed in the country at any cost", he added. We should not talk about dictatorship, he said, in even general routine.