Toshakhana case: Imran Khan's wife Bushra Bibi challenges NAB notices in IHC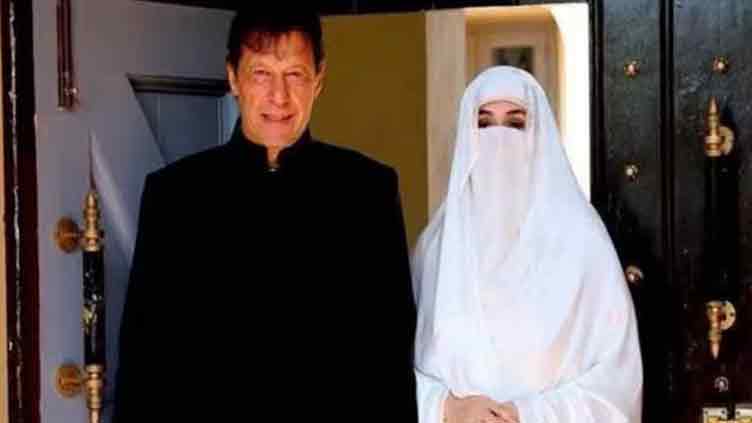 Pakistan
She asks the court to stop NAB from taking any disciplinary action against her
ISLAMABAD (Dunya News) – Pakistan Tehreek-e-Insaf (PTI) Chairman Imran Khan's wife Bushra Bibi on Saturday moved the Islamabad High Court (IHC) against the call-up notices issued by the National Accountability Bureau (NAB) in a reference regarding Toshakhana gifts.
The former first lady has challenged the notices served on her on March 16 and 17 through her lawyer, Khawaja Harris. She has made the NAB chairman, and additional director of NAB Rawalpindi respondents in the case.
Bushra Bibi had pleaded the court to declare the notices null and void. She also requested the high court to bar the NAB from taking any disciplinary action against her on the basis of the notices. The petitioner asked the court to stop NAB from converting the case inquiry into an investigation.
The development comes after she failed to appear before the anti-graft watchdog to join the inquiry proceedings in the reference.
A notice issued to Imran Khan, Bushra Bibi and others in the Toskhana case in February this year states: "The competent authority has taken cognisance of an offence allegedly committed by the accused persons under the provisions of NAO, 1999. In this regard, the inquiry proceedings have revealed that during your tenure in office you retained some state gifts presented to you by various foreign dignitaries including the following luxury items — five Rolex wristwatches; one iPhone presented by Chief of Staff, Qatar Armed Forces, dated 14.11.2018; (No. E67574V3), a pair of cufflinks, one ring; unstitched cloth of pant coat from Crown Prince of Saudi Arabia dated 18.09.2020; Graff gift set containing one Graff wristwatch Master Graff Special Edition Mecca timepiece, one 18K gold and diamond Graff pen and a ring and pair of cufflinks with micro-painting of Mecca."
"You are therefore requested to join the inquiry proceedings before the Combined Investigation Team (CIT), NAB (Rawalpindi/Islamabad), Civic Centre, G-6, Islamabad," reads the notice