Punjab, KP election postponement: SC resumes hearing of PTI plea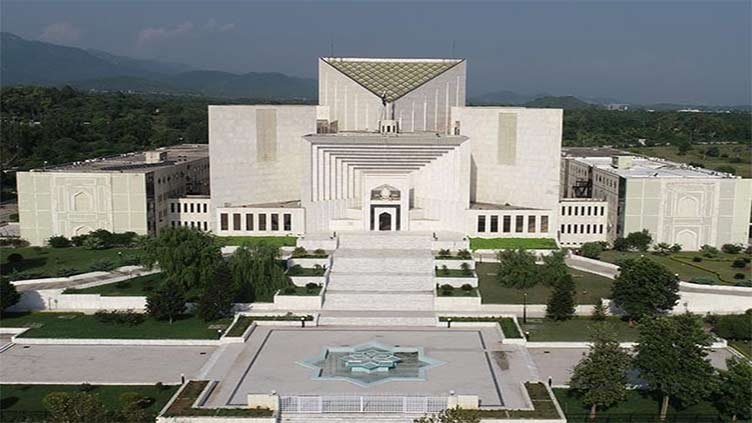 Pakistan
The bench headed by Chief Justice Umar Atta Bandial started proceedings at 11:30am.
ISLAMABAD (Dunya News) – A five-member Supreme Court bench will resume on Tuesday hearing of PTI's petition against postponement of Punjab and Khyber Pakhtunkhwa elections.
The bench, headed by Chief Justice Umar Atta Bandial, will start proceedings at 11:30am. Justice Ijazul Ahsan, Justice Muneeb Akhtar, Justice Aminuddin Khan and Justice Jamal Mandokhail are members of the bench.
During Monday's proceedings, the Supreme Court issued notices to the Federation, the Election Commission of Pakistan (ECP) and the attorney general. Notices were also issued to the petitioners including the caretaker governments and governors of Punjab and Khyber Pakhtunkhwa.
The petition, moved by Senator Barrister Syed Ali Zafar, sought from the apex court to set aside the March 22 notification of the ECP for being 'unconstitutional' and 'illegal'. Barrister Zafar described the ECP notification as the "9/11 of Pakistan's Consti¬tution" and asked the SC to order the ECP to hold elections on April 30 as announced by President Dr Arif Alvi in pursuance of the Supreme Court directive issued on March 1.
Chief Justice Bandial on Monday observed that the spirit of the Constitution did not envisage the making or breaking of governments, rather focused on ensuring good governance and bringing happiness to the people by protecting their rights.
At the same time, the CJP also shared his worries regarding the prevailing hostility, animosity and bitterness which, he said, had been "sown into our polity", while questioning the role political leaders were playing to restore peace and calm in society and seeking a 'commitment' from parties in this regard.
CJP Bandial observed that timely elections held honestly, justly, fairly and in accordance with law were crucial for the democratic system mandated by the Constitution. Any flaw, deficiency or failing in the holding of general elections was, prima facie, a matter of public importance that affected the fundamental rights of the voting public, he noted.