PPP tops the chart in Sindh's local govt by-elections, bags 39 seats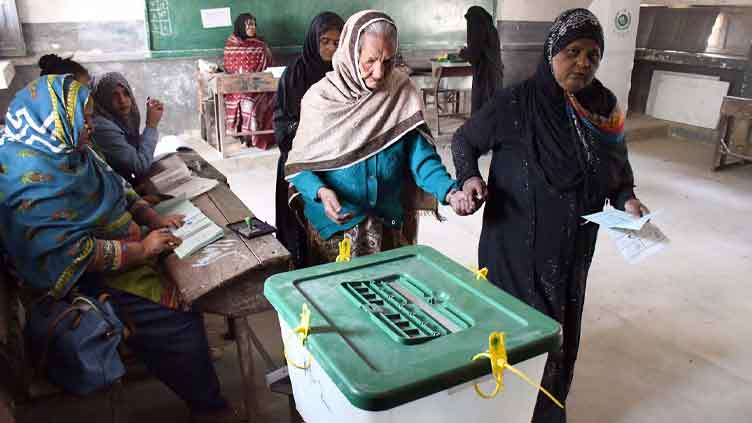 Pakistan
Re-polling took place in 15 constituencies on the orders of the SCP and the ECP
KARACHI (Web Desk) - Pakistan Peoples Party (PPP) on Monday topped the chart in Sindh by-elections, bagging 39 seats out of 59 seats, unofficial and unconfirmed results suggested.
The Grand Democratic Alliance (GDA) secured six seats in the elections, PTI grabbed two seats, while JUI and MQM Pakistan bagged one seat each. Nine independent candidates also won seats.
Polling time for local government (LG) by-elections elapsed in 15 districts of Sindh at 5pm on Sunday. Violence was reported at some polling stations in different districts. Activists of PTI and PPP clashed at a polling station in Hyderabad.
In Nawab Shah's UC8, PPP's Qazi Rasheed Bhatti was ahead of MQM's Yaqoob Arain, who's at the second spot, and the candidates of the PTI and the TLP. PPP's Ali Ahmad and Ghulam Mustafa were elected chairman and vice chairman respectively in Old Nawab Shah.
UC Somar Jamali also witnessed PPP's Qurban Ali Arain and Ali Ahmad Burohi leading the table.
PPP's Azam Jagirani topped the chart in Sukkur's union committee Panhwari ward 1, while PPP's Jeevan Khan and Abdul Wahab succeeded at district councilor and general councilor's seats respectively.
In Jacobabad's UC23 Kot Jangu, the independent candidate for chairman Zafar Khoso won, while independent candidate Abdul Muttalib Khoso secured the vice chairman's seat leaving PPP's candidates behind.
Badin's UC 49 saw PPP's Pagahro Ghulam Rasool bagging the district councilor's seat leaving GDA's Mir Hassan in the second spot.
Larkana's Dokri Town committee ward 2 also witnessed PPP's Basheer Thaheem taking a lead on GDA's Habibullah Khokhar and PTI's Imam ud din Jalbani.
In UC Shehdad Kot, PPP and JUI bagged two seats each while four others were secured by candidates backed by the PPP.
UC Bagodro also saw the victories of PPP backed independent candidates chairman, vice chairman, member district council, two general councilor seats while remaining two general council's seats were bagged by the JUI.
PPP's candidate for district councilor of the UC28 of Kandhkot Mir Ahmad Raza staged a win over JUI's Raees Zafar Bheo while PPP's Kashif Ali Bheo managed to win on chairman slot, and PPP's Muhammad Salah has won as general councilor.
The polling was held for multiple seats including seats for Chairman, Vice Chairman, Member District Council, and General Members.
A total of 109,687 registered voters were expected to cast their votes, with 59,310 male and 50,377 female voters in 15 districts.
The repolling took place in Jacobabad, Kashmore, Shikarpur, Larkana, Qamber Shahdadkot, Sukkur, Khairpur, Shaheed Benazirabad, Sanghar, Mirpurkhas, Umarkot, Tharparkar, Hyderabad, Jamshoro, and Badin from 8am to 5pm.
The local government polls were conducted with the help of 15 district returning officers, 26 returning officers, and 52 assistant returning officers.
A total of 81 polling stations were set up across the districts, including separate stations for men and women as well as combined stations.
The upcoming local government polls in 15 districts of Sindh had a total of 275 polling booths. Among these booths, 140 were exclusively designated for male voters, 135 for female voters, while the remaining 275 booths were combined and open to both genders.
The electoral watchdog took necessary steps to ensure fair and transparent elections by conducting the revote in response to allegations of misconduct during the previous local government elections held in 15 districts of Sindh.
The move aimed at addressing the concerns and allegations of irregularities in the previous elections.