President Alvi confers awards on high achievers on momentous day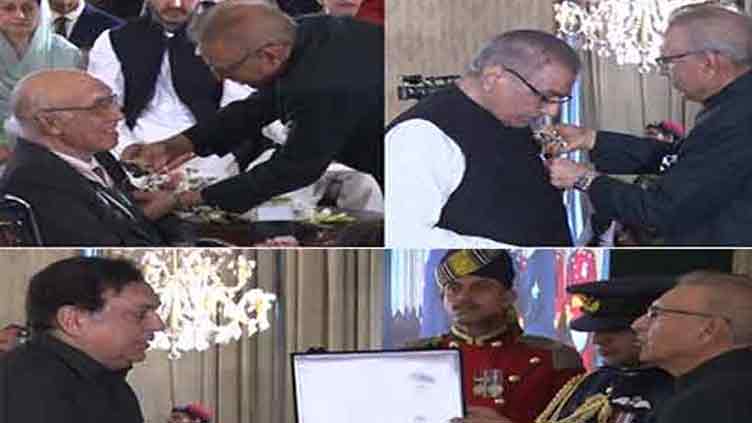 Pakistan
Islamabad IGP Dr Akbar Nasir honoured with Tamgha-e-Shujaat
ISLAMABAD (Dunya News) – President Dr Arif Alvi on Thursday conferred civil honours upon various personalities, including foreign nationals, for their contributions in different fields at an investiture ceremony at Aiwan-i-Sadr on Pakistan Day.
Prominent among those who were conferred with the civil awards are senior journalist Mujeebur Rehman Shami, social worker Ramzan Cheepa, renowned scholar Dr Anees Ahmed, Sindh Governor Kamran Tessori and Inspector General of Islamabad Police Dr Akbar Nasir Khan.
The late poet Amjad Islam Amjad, Saghir Siddique, Sufi Ghulam Mustafa Tabassum, Justice retired Rana Bhagwan Das, actor Qavi Khan and others were among those honoured posthumously at the investiture ceremony.
Squash legends Jahangir Khan and Jan Sher Khan, Sartaj Aziz, Mir Hasil Bizenjo and Ahmed Ghulam Ali Chagla have also been conferred with awards.
The president also bestowed Tamgha-e-Shujaat on martyred Amir Nawaz Khan, martyred Muhammad Kamran, retired Col Muhammad Arif, Muhammad Usman Shehbaz, Dr Kamran Ahmed, Sher Ahmed, Tanveer Hussain, Amjad Ahmed, Mazhar Nawaz Sheikh, Frontier Constabulary's Zeeshan Ahmed, Naveed Ahmed, Ziaur Rehman and martyred Javedullah while Muhammad Bilal Raja, Mubashir Saleem, Minhas Ahmed Khan and Ijaz Hafeez were also honoured at the ceremony.
Similar ceremonies were also held at the Governor Houses in Punjab, Khyber Pakhtunkhwa and Balochistan. Punjab Governor Baligur Rehman conferred Sitara-e-Imtiaz on Pakistan skipper Babar Azam and others.