Man dies in stampede at Charsadda free flour distribution point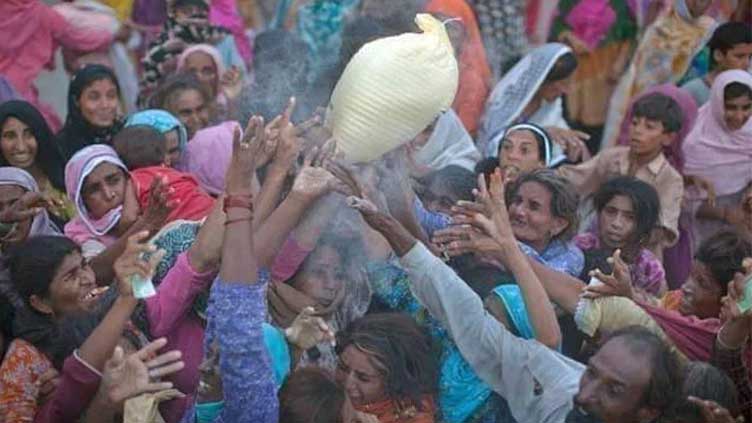 Pakistan
Four people also sustained injuries
CHARSADDA (Web Desk) – A man was killed and four others were injured during a stampede at a free flour distribution point in Khyber Pakhtunkhwa's Charsadda district on Thursday.
Thousands of people had gathered to get free flour at a distribution point, when people suddenly got panicked causing a stampede. A man was killed and four others sustained injuries during the stampede. The local administration said due to inadequate arrangement the flour was sent back from the distribution point.
It merits mentioning here that this is the third such incident across Pakistan claiming life of a person. Earlier in Muzaffargarh, an elderly woman died during a stampede at a free flour dis¬tribution point at Sar¬war Shaheed Chowk on Monday.
According to Rescue 1122 sources, 50-year-old Taaj Bibi, wife of Ghaus Bakhash, a resident of Village 588/TDA Saeedi Adda, went to the flour distribution point at Chowk Shaheed, where un¬der the special Ramazan package of the provincial government, three flour bags were being given to deserving families in¬cluding women registered with Benazir Income Support Pro¬gram (BISP). She fell down due to the stampede by the crowd pushing to get flour bags early and died on the spot.
Upon re¬ceiving information, the rescue officials reached the spot and shifted the body to Tehsil Head¬quarters Hospital (THQ) Chowk Sarwar Shaheed for medi¬co-legal formalities.
Separate¬ly in Faisalabad, a stampede at a flour distribution point in Punjab had claimed the life of a citizen after the government announced distribution of free flour sacks among deserving families. The incident happened when an elderly citizen, who came to collect flour from a distribution point, died in a stampede.
Rescue sources said Muhammad Kaleem was found unconscious at the park's main gate. He was taken to the General Hospital, Samanabad, where he took his last breath. During the stampede and mismanagement at the flour distribution point, many citizens sustained injuries.