PTI to register cases against police officers over 'illegal' Zaman Park raid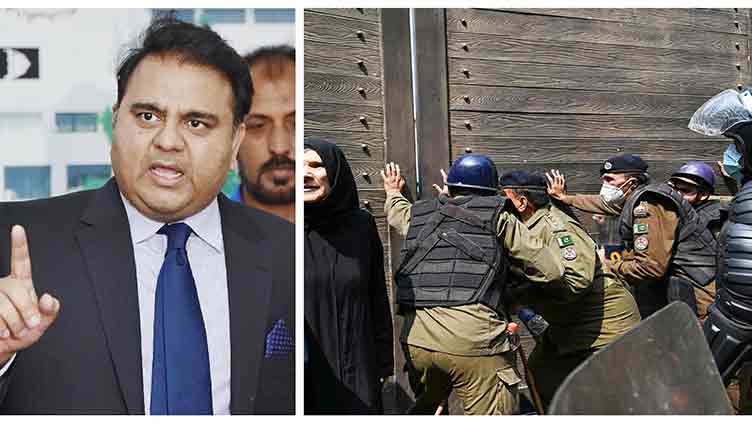 Pakistan
Former information minister says flouting court orders an unforgivable offence
ISLAMABAD (Dunya News) – Pakistan Tehreek-e-Insaf (PTI) leader Fawad Chaudhry announced that case will be registered against police officers involved in an illegal operation at the residence of party chairman Imran Khan.
In a series of tweets, the former information minister said the police defied the orders of the Lahore High Court (LHC) and violated the sanctity of Mr Khan's home. He said the personnel not only stole things but also tortured the innocent people.
Mr Chaudhry said the violence in Islamabad, and Lahore and such other actions indicated that Pakistan was passing through the constitutional crisis. He said flouting court order was an unforgivable offence.
— Ch Fawad Hussain (@fawadchaudhry) March 19, 2023
A raid was conducted by police at Imran Khan's home to conduct search hours after he left for Islamabad to attend hearing of the Toshakhana case.
A heavy contingent of police raided the residence for the former premier where they removed camps to clear the area and arrested several people allegedly involved in March 14 and 15 violence cases. Later, Punjab IGP Usman Anwar and interim information minister held a joint press conference, revealing that the security officials recovered assault rifles, bottles used for making petrol bombs and other items during the raid.
The IGP said the raid was conducted after search warrants were issued by an anti-terrorism court. He said women cops were also part of the raid.