Toshakhana case hearing shifted to Judicial Complex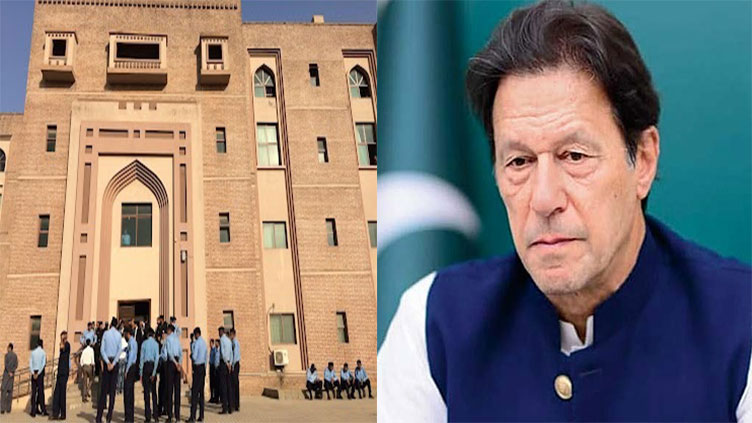 Pakistan
Imran Khan will appear Court No. 1 of the Judicial Complex in G-11/4 today (Saturday)
ISLAMABAD (Dunya News) - The hearing of the Toshakhana case against Pakistan Tehreek-e-Insaf (PTI) chief and former prime minister Imran Khan has been shifted to the Judicial Complex from the district and sessions court. Chief Commissioner Office issued a notification to transfer the court.
Imran Khan will appear Court No. 1 of the Judicial Complex in G-11/4 today (Saturday) instead of the district and sessions court in Sector F-8. Additional Sessions Judge Zafar Iqbal will hear the case.
Imran Khan had repeatedly said that there is a danger of another assassination attempt being carried out on his life if he appears in court. He has also specifically said that the crammed court complex in F-8 is more prone to a security lapse.
In line with PTI's insistence that Khan's life is in danger and he needs security, Islamabad Chief Commissioner Noorul Amin Mengal shifted the hearing from F-8 Court Complex to the Judicial Complex in G-11 as a "one-time dispensation".
---
---
"The Chief Commissioner…, as one-time dispensation, is pleased to declare Court No.1 Ground Floor Judicial Complex, G-11/4 Islamabad, venue for hearing of case 'District Election Commissioner vs Imran Khan Niazi on 18 March 2023 instead of F-8 Court Complex Islamabad." a notification read
It is pertinent to note that PTI leader Shibli Faraz met with Islamabad Police over security concerns of PTI supremo Imran Khan and had demanded to shift the F8 courts to the judicial complex.