Memon alleges Imran of pushing country towards anarchy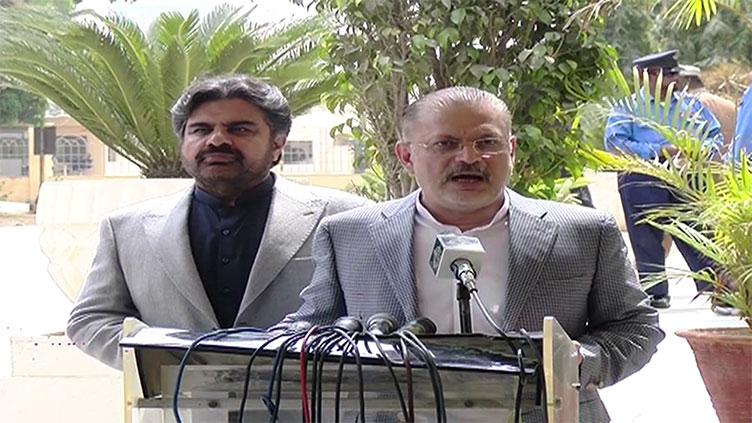 Pakistan
Sharjeel Memon said PTI leadership was illegally taking advantage of the patience of the state.
KARACHI (Dunya News) - Sindh Information Minister Sharjeel Inam Memon on Wednesday alleged Imran Khan of engaging in cowardly conspiracies to push the country towards anarchy while Tehreek-e-Insaf was converting into a militia from a political party.
Speaking to the media at the Sindh Assembly media corner, the Sindh information minister asserted that Imran Khan wanted lawlessness in the country and intended to declare war against the state in order to prove that he was stronger than the state.
He said that the Constitution, law and court orders were flouted in Lahore on Tuesday while police personnel were attacked.
"What kind of traditions is being established? If it continues, the country will go towards chaos," he opined and said that it was not a natural reaction by PTI workers but people were being brought to Zaman Park and the streets by making appeals as Imran Khan was asking the youth to come to the streets, throw stones, burn tires and fight the police.
Sharjeel Inam Memon said that all institutions were working cautiously as the government would not allow any damage. He added that Islamabad Police and Punjab Police have full capacity to deal with the situation but the administration was showing patience and caution.
He said that it was not a scenario of state coercion but PTI leadership was illegally taking advantage of the patience of the state as these people want dead bodies to serve their political motives.
Sharjeel Memon said that Imran Khan feared his arrest and he was issuing statements from his safe abode while it was also learnt that bunkers were also made in his Zaman Town residence.
When Shaheed Benazir Bhutto was coming to Pakistan, she was informed about a possible assassination attempt but it could not terrify the courageous leader and she continued to make public appearances, he said.
Pakistan People's Party leaders and workers presented themselves for arrests with courage, he said adding that taking 5 to 10 thousand people out on the roads has never been a big challenge for PPP but it had never taken the law into hands and never attacked the police like this.
Sharjeel said that Faryal Talpur was sent to jail on the night of Eid while Speaker Sindh Assembly was arrested in Islamabad although case against him was registered in Karachi.