LHC defuses mayhem by ordering end to Zaman Park siege till 10am on Thursday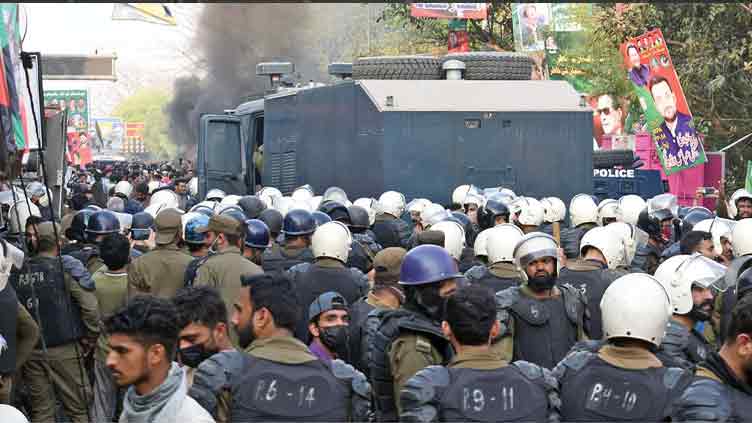 Pakistan
Justice Tariq Saleem Sheikh heard the case
LAHORE (Dunya News) – The Lahore High Court (LHC) on Wednesday ordered the law enforcers to stop the operation at Zaman Park initiated a day earlier to arrest PTI chief Imran Khan in the Toshakhana case.
LHC's Justice Tariq Saleem Sheikh ordered that the operation should be stopped till 10 am on Thursday.
Earlier in the day, the LHC ordered the Punjab IGP and the DIG Operations of Islamabad police to appear before the court immediately and adjourned the hearing on a petition a petition for later today.
The petition was moved after clashes erupted when police tried to arrest the former prime minister for not showing up in a case against him related to selling state gifts. A district and sessions court in the federal capital last week issued his arrest warrants.
Security forces had fired tear gas and water cannons at hundreds of Khan's supporters who had cordoned off his home in an effort to prevent his arrest. In a latest development, the forces withdrew from Khan's home for the time being ahead of the match of the Pakistan Super League (PSL) in Lahore.
Read More: LEAs strategically retreat for PSL 8 match after fierce clashes with PTI workers at Zaman Park
As Justice Sheikh resumed the hearing, IGP Usman Anwar, Lahore CCPO Bilal Siddique Kamyana, Chief Secretary Zahid Akhtar Zaman, Advocate General Punjab Shan Gill and others officials appeared in the court. Advocate Azhar Siddique represented the PTI in the case.
The IG told court the PTI protesters hurled stones and petrol bombs at police officials, adding that one water cannon was also destroyed by the violent protesters. "When we called Rangers they also hurled petrol bombs at them," he said.
The top Punjab cop said woman police officer SP Ammara was also tortured by the PTI workers, adding: "When we resumed push to arrest Imran Khan the PTI supporters again resorted to stone pelting". He said the police was implementing the court orders, adding that the security forces would withdraw if court cancels the arrest warrants.
At which, Justice Sheikh remarked if there was any issue if the operation is halted till the decision of the Islamabad High Court (IHC). The IG replied, "We will follow any order of the court".
Later, the judge ordered the security forces to stop the operation and adjourned the hearing till tomorrow.