IHC orders lower court to decide on Imran's plea for suspension of arrest warrants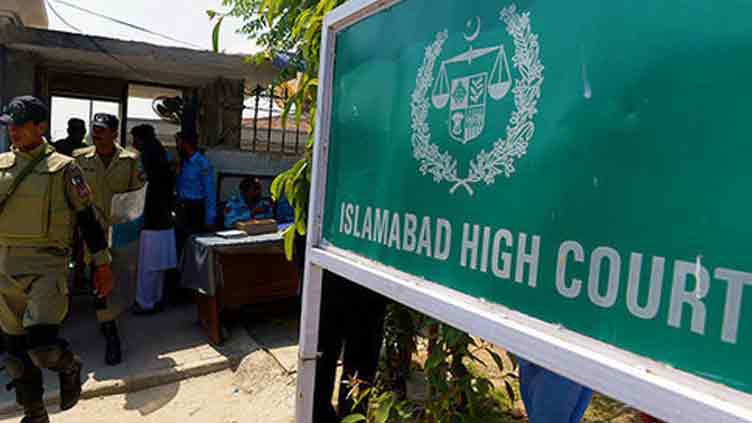 Pakistan
Orders Imran to approach sessions court for suspension of warrants
ISLAMABAD (Dunya News) – The Islamabad High Court (IHC) on Wednesday ordered to submit the undertaking duly signed by PTI chief Imran Khan in a verdict it had reserved on the PTI's plea seeking suspension of arrest warrants issued against Imran Khan in the Toshakhana case.
The IHC ordered Mr Khan to approach the sessions court for suspension of warrants and ordered the lower court to issue a verdict in line with the Constitution after the undertakin is submitted. If the trial court was convinced by the undertaking, it would suspend the warrants, the court remarked.
IHC Chief Justice Aamer Farooq had taken up a petition filed by the PTI legal team.
Earlier in the day, PTI lawyer Khawaja Harris took to rostrum after the chief justice wrapped up hearing of another case and pleaded him for early hearing of his petition. The IHC chief justice remarked the PTI petition was yet to be fixed for hearing. He said the court had provided relief to Mr Khan when it suspended the arrest warrants till March 13 and directed him to appear before the trial court.
'The ongoing situation is a consequence of not implementing the court orders," the chief justice remarked while hinting at the tense situation in Lahore where police and PTI workers are engaged in violent clashes amid possible arrest of Mr Khan.
Later, the chief justice removed the objections raised by the registrar office on the petition regarding signature and biometric of the PTI chief. Justice Farooq directed the PTI lawyers to address the objection regarding tickets in half an hour.
The petition was filed after a heavy contingent of the Islamabad and Punjab police as well as paramilitary troops reached Zaman Park in Lahore to arrest the PTI chief.
Earlier this week, a district and sessions court in the federal capital had directed the authorities concerned to produce Imran Khan before it for indictment on March 18 as he has skipped it four times.
The Punjab capital is again seeing violent clashes between the PTI protesters and law enforcers since morning after the intermittent overnight violence as the LEAs resumed their push to take Mr Khan into custody. The protesters pelted the security official with stones while police resorted to tear-gas shelling and water cannons to disperse the PTI workers who are determined to block the arrest of their leader.
Meanwhile, the PTI leaders have moved the Lahore High Court (LHC) to secure protective bail for Imran Khan.