ECP issues notice for by-elections on three NA seats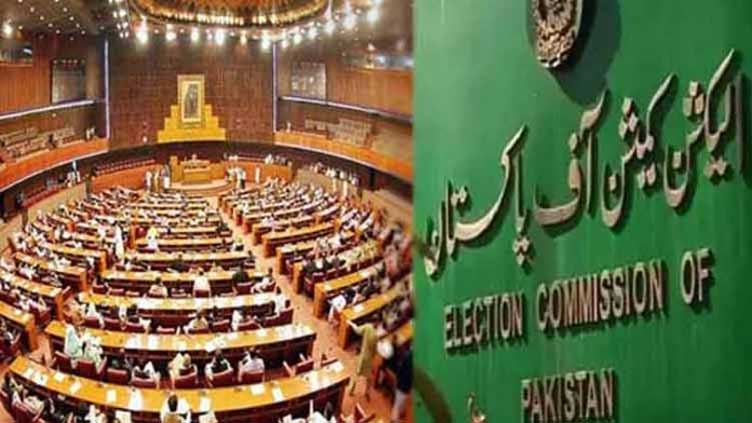 Pakistan
Elections will be held in NA-22, NA-24, and NA-31
PESHAWAR (APP) - Returning Officers (ROs) for by-elections on three vacant seats of the National Assembly from Khyber Pakhtunkhwa issued public notices for by-elections on Saturday.
These vacant NA constituencies include NA-22 (Mardan-III), NA-24 (Charsadda-II), and NA-31 (Peshawar-V) respectively. The Election Commission of Pakistan (ECP) is holding by-elections on these seats for the second time.
The seats were earlier declared vacant in wake of the acceptance of the resignations of PTI legislators, Ali Mohammad Khan, Fazal Mohammad Khan, and Shaukat Ali by the Speaker National Assembly.
In by-elections held on October 16, 2022, these seats were won by the PTI Chairman Imran Khan, but, he did not retain any of them, so all these seats were declared vacant and now another by-election would be held on them.
The public notices for holding by-elections on them have been issued under Section 57 and Section 102 of the Elections Act, 2017 by the Returning Officers of each vacant National Assembly seat.
According to the notices, aspirant candidates could file nomination papers with the Returning Officers from March 12, 2023, to March 14. 2023whereas the initial list of the candidates would be issued on March 15, 2023, which would be followed by the scrutiny of nomination papers till March 22.
The last date for filing appeals against rejection or acceptance of nomination papers is March 27, which would be decided by the Appellate Tribunal by April 2, and on the same day, the revised list of candidates would be published.
The last date for withdrawal of candidature and publication of a revised list of candidates is April 5, which would be followed by allotment of election symbols to contesting candidates on 6.04.2023 while polling would be held on April 30.