At UN, Bilawal calls for global unity to fight against growing Islamophobia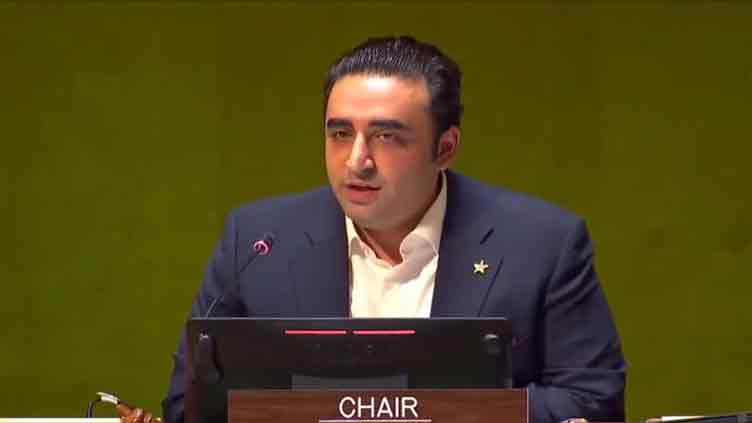 Pakistan
At UN, Bilawal calls for global unity to fight against growing Islamophobia
UNITED NATIONS (APP): Foreign Minister Bilawal Bhutto Zardari Friday opened a special high-level meeting to commemorate International Day to Combat Islamophobia, with a fervent call to everyone – from any religion or creed – to stand together in the fight against hatred, bigotry and intolerance.
"The observance of this Day serves to reinforce our shared commitment to raise awareness about the insidious phenomenon of Islamophobia, advance mutual respect and understanding, and develop concrete measures to eradicate this contemporary plague," he told delegates in the UN General Assembly Hall, while highlighting that Islam is a religion of moderation, tolerance and pluralism.
The meeting is co-convened by the Office of the President of the General Assembly and Pakistan in its capacity as the Chair of the Organization of Islamic Cooperation (OIC) Council of Foreign Ministers.
Last year, the 193-member Assembly adopted Resolution 76/254 designating March 15 as the International Day to Combat Islamophobia.
Apart from Casaba Korosi, the Assembly's President, present at the meeting, among others, were UN Secretary-General Antonio Guterres and High Representative of the UN Alliance of Civilizations (UNAOC) Miguel Moratinos.
OIC Secretary-General Hissein Brahim Taham and the UN Special Rapporteur on Freedom of Religion or Belief, Nazila Ghanea, were due to address by video link.
In his opening remarks, FM Bilawal said since 9/11, animosity and institutional suspicion of Muslims and Islam across the world escalated to "epidemic proportions".
"Despite protestations to the contrary," the foreign minister said, "Islam and Muslims are routinely linked to terrorism".
In some cases, he said, the rhetoric of hate and incitement to violence was officially inspired, noting that repeated pogroms of Muslims had been instigated by officially sanctioned neo-fascist policies and ideologies with complete impunity.
"The policies and violent actions of those who deny the right of self-determination of Muslim peoples represent the worst manifestations of Islamophobia today," FM Bilawal added.
In this regard, he urged the UN secretary-general to formulate an 'action plan', in coordination with the OIC countries, to halt and reverse Islamophobia.
Such an action plan, he said, could include:
— The appointment of a UN Special Envoy to combat Islamophobia;
— The adoption of measures to protect Holy Sites, including the thousands of Mosques and Mausoleums;
— The adoption of laws – at the national and international level – to outlaw hate speech, Holy Quran's vandalization, and discrimination and violence against Muslims and other communities;
–The provision of legal assistance and appropriate compensation to those subjected to such Islamophobic acts and;
— The establishment of national and international judicial mechanisms and laws to hold those responsible for acts of Islamophobia accountable.
"Unfortunately," the foreign minister said, "the virus of Islamophobia is spreading faster than we have been able to react.
"Not even the greatest democracies are immune. We have witnessed democratic societies impose Muslim bans. So-called free societies allow for the desecration of holy texts and holy sites. Even my region is not immune with democratic secular societies under the threat of being transformed to religious and Islamophobic states.
"Today, we must renew our resolve to build an inclusive society where different cultures and beliefs are celebrated and diversity is embraced. We can ill afford to ignore dangerous ideologies and acts dividing us as humanity," he added.
"The declaration of 15th March as an International Day to Combat Islamophobia by the General Assembly is a demonstration of global solidarity with both known and unknown victims of Islamophobia," FM Bilawal said.
Prophet Muhammad (Peace Be Upon Him) taught Muslims to treat everyone with dignity and respect regardless of race, culture, gender or religion, the foreign minister said, but noted that unfounded phobia of Islam and its adherents was a sad reality, and the challenge was much deeper and deeply rooted.
Since colonial times, he said, the entrenched notions that depict Muslims and their beliefs as cultural "others" and "threats" had served to perpetuate, validate and normalize Islamophobia and anti-Muslim hatred.
"This Islamophobic narrative is not just confined to an extremist marginal propaganda but regrettably, has found acceptance by section of mainstream media, academia, policy-makers and State machinery.
"Islamophobia is, therefore, being constantly fueled by structural discrimination, xenophobia, and negative stereotyping of Muslims and their faith," he added.
Today," the foreign minister said, "we must renew our resolve to build inclusive societies where different cultures and beliefs are celebrated and diversity embraced. We can ill afford to ignore dangerous ideologies and acts dividing us as humanity."
In his address, Secretary-General Antonio Guterres thanked the OIC and Pakistan for focusing attention – and calling for action – to stamp out the poison of Islamophobia.
"The world's nearly 2 billion Muslims reflect humanity in all its magnificent diversity. They hail from all corners of the world. They are Arabs, Africans, Europeans, Americans, and Asians," he said.
But, he said, "they often face bigotry and prejudice for no other reason than their faith that takes many forms".
The UN chief referred to structural and institutional discrimination that manifests itself in socio-economic exclusion, discriminatory immigration policies and unwarranted surveillance and profiling.
"It reveals itself in the wholesale stigmatization of Muslim communities.
And it is reinforced by biased media representations, and – shamefully – by the anti-Muslim rhetoric and policies of some political leaders," he said.
"Beyond structural Islamophobia, Muslims suffer personal attacks, hateful rhetoric and stereotyping," the secretary-general pointed out.
"Many such acts of intolerance and suspicion may not be reflected into official statistics – but they degrade people's dignity and our common humanity," he said, adding that linkages between anti-Muslim hatred and gender inequality were unmistakable.
"We see some of the worst impacts in the triple discrimination against Muslim women because of their gender, ethnicity, and faith," Guterres said, noting that the growing hate that Muslims face was not an isolated development.
"It is an inexorable part of the resurgence of ethno-nationalism, neo-Nazi white supremacist ideologies, and violence targeting vulnerable populations including Muslims, Jews, some minority Christian communities and others," he said.
"Discrimination diminishes us all," he said, underscoring the need to stand up against it.
"We must never be bystanders to bigotry. We must strengthen our defences. This means pushing for policies that fully respect human rights and protect religious and cultural identities, particularly of minorities.
"Our UN Plan of Action to Safeguard Religious Sites provides concrete recommendations to support governments so that all can enjoy their right to observe religious rituals in safety," he said.
"We must recognize diversity not as a threat, but as richness. This means ramping up political, cultural, and economic investments in social cohesion. And we must confront bigotry wherever and whenever it rears its ugly head. This includes working to tackle the hate that spreads like wildfire across the internet.
"That is why I have called on governments, regulators, technology companies and the media to set up guardrails, and enforce them. We have launched the United Nations Strategy and Plan of Action on Hate Speech – to provide a framework for our support to member states to counter this scourge while respecting freedom of expression and opinion."
As part of "Our Common Agenda", the secretary-general said, the UN was working on a Global Digital Compact for an open, free, inclusive, and secure digital future for all, firmly anchored in human rights.
"We are pushing for a code of conduct to promote integrity in public information – so people can make choices based on fact, not fiction; education, not ignorance.
"I am grateful to religious leaders across the world who are joining hands to promote dialogue and interfaith harmony."
The General Assembly President, Casaba Korosi, also thanked Pakistan and the OIC for drawing global attention to thE important issue.
"Last year's unanimous adoption of the GA resolution on it speaks volumes about the need for a global dialogue to encourage tolerance and peace," he said.
Like so many such social ills, the president said, Islamophobia was rooted in xenophobia — the fear of strangers and foreigners.
"We see the reflections of this fear in discriminatory practices, travel bans, hate speech, bullying and the targeting of others – sometimes just for their clothing," Korosi said, noting the generalized and unjustified worries stoked by bigots and populists, and in the coverage of Muslims in a part of the media as threats to certain ways of life.
"Its harmful effects are amplified on social media, often by extremists who use this negative stereotyping as a tool for recruitment into their ranks."
On the other hand, he said, there were cases when teachings of the religion were hijacked and usurped for policies unreconcilable with their original, true intentions. "And the extremist actions are often followed by blanket opinions and reactions – without distinction.
"All over the world, there are political movements and parties who want to benefit from spreading the myth that any foreigner or believer of a different faith can only be an enemy with evil intentions."
The president said Islamophobia was part of a broader resurgence of ethno-nationalism, supremacy, stigma and hate that were targeting religious, national, ethnic and linguistic communities.
"It is on us all to reverse these trends by embracing diversity and safeguarding the rights of minorities," he said.
"Freedom of religion or belief is guaranteed under the International Covenant on Civil and Political Rights – this is international law that must not be breached in any country.
"I call on every member state to uphold this fundamental freedom."
Education was key to learning why social phobias exist, which could change the understanding of one another, as well as being transformative, Korosi said .
"Making Islam understood, instead of keeping it unknown, can be crucial in dealing with the phenomenon of Islamophobia," the president said.
"Let us struggle against that ignorance, let us show the real nature of Islam or any other religion.
"Social media companies should also do more by removing hate speech from their platforms and curbing the spread of disinformation," Korosi said, while underscoring the need for involving young people were involved in those efforts.
"Women's voices should be equally included in discussions around Islamophobia, like the one we are having today.
"Their important role in shaping Muslim communities was well emphasized during the 'Women in Islam' event earlier this week."