Toshakhana case: Imran gets relief as IHC approves interim bail plea till March 9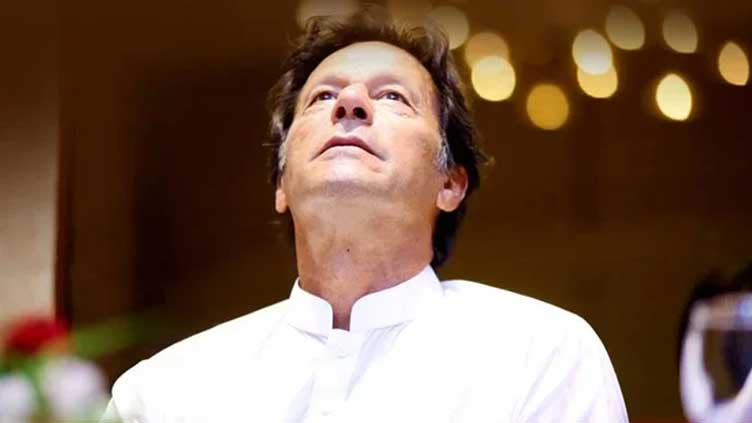 Pakistan
Toshakhana case: Imran gets relief as IHC approves interim bail plea till March 9
ISLAMABAD (Dunya News) – The Islamabad High Court (IHC) on Tuesday approved Pakistan Tehreek-e-Insaf (PTI) Chairman Imran Khan's interim bail plea till March 9 in the Toshakhana case.

Earlier, the IHC had fixed the pre-arrest bail application of the PTI chief for hearing and IHC Chief Justice Aamir Farooq heard the case
The deposed premier reached the Islamabad High Court and after biometric procedure, he appeared before the court. In view of security concerns, Imran's car was given special permission to be taken inside the Islamabad High Court. Leaders and workers of the Pakistan Tehreek-e-Insaaf were also with him.
Watch here

Court issues no-bailable warrant for Imran Khan
Earlier, a district and sessions court in the federal capital issued non-bailable arrest warrant for PTI Chairman Imran Khan in the Toshakhana case.
Additional Sessions Judge Zafar Iqbal issued the warrant on non-appearance in the case while rejecting the exemption plea of former prime minister. Earlier, Mr Khan filed a petition seeking adjournment of the case for five days due to his tight schedule as he was to appear in other courts today.
The former prime minister's lawyer, Ali Bokhari, told the judge that his client was coming to Islamabad from Lahore as he was due to appear before two other courts in the Judicial Complex. He said his client would not be able to attend the hearing of the Toshakhana case due to shortage of time.
At this, the judge expressed outrage, stating: "Why he [Imran Khan] cannot appear before court when he is attending hearings in the Judicial Complex?". He remarked the PTI chief should first come here for indictment and then he could go anywhere.
ECP lawyer Saad Hassan also opposed the adjournment plea, saying the suspect did not want to appear before the court. Later, the judge adjourned the hearing for later today and ordered Imran Khan to appear before him.
Meanwhile, the Islamabad High Court (IHC) has fixed a petition filed by the PTI chief seeking pre-arrest bail plea in the Toshakhana case for hearing later today. Mr Khan is expected to appear in the high court where Justice Aamer Farooq would hear the case.
The Case
Last year, the top electoral body had sent the reference to the district and sessions court under Sections 137, 170, and 167 of the Election Act, seeking initiation of criminal proceedings against Imran Khan for incorrect declaration of assets for 2017-2018 and 2018-19. The ECP, in the petition, has called for a three-year jail term and imposing a fine on the PTI chief.
On Dec 15, the court admitted the commission's plea against Mr Khan. In its three-page verdict, the court noted that prima facie, the former premier didn't mention the details of the gifts he acquired from the Toshakhana. In August last, the Pakistan Democratic Movement (PDM) moved the ECP against Imran Khan over not filing the details of gifts he obtained from Toshakhana for Rs21.5 million.
Later in October, the ECP, in a unanimous decision, found the former prime minister guilty of "corrupt practices" and disqualified him from being a member of parliament.