Khawaja Asif speaks his heart out after SC takes up Punjab, KP elections case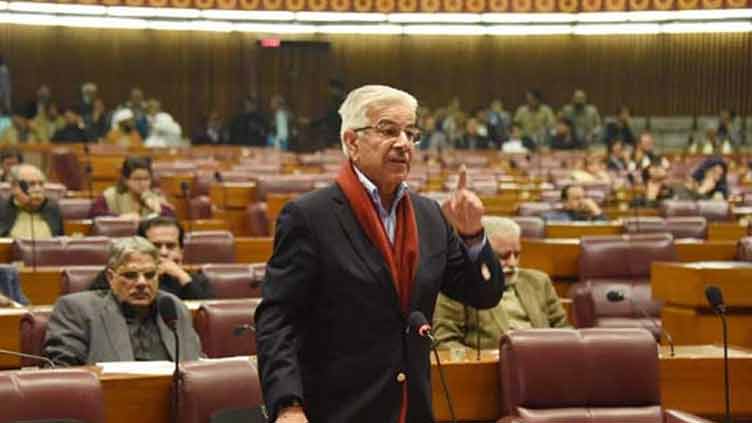 Pakistan
Requests top court to constitute larger bench in the poll date case
ISLAMABAD (Dunya News) – Defence Minister Khawaja Muhammad Asif said on Friday said it was the right of the parliamentarians to raise voice when judges intrude into their domain.
The PML-N stalwart was addressing a session of the National Assembly at a time when a nine-member bench of the Supreme Court has taken a suo motu notice over delay in elections in Punjab and Khyber Pakhtunkhwa where assemblies were dissolved by the PTI in January.
He said the apex court had taken up an important matter and now it needed to find a solution that would prove an antidote "not only to us but for the issues we are facing for decades".
He also prayed the top court to constitute a full bench to hear the suo-motu notice as it was a very important issue.
He said there were several important questions before the judiciary, including the dissolution of the provincial assemblies, and the answers should come.
"We have always stood for the independence of the judiciary as we want to run the country in accordance with the law and constitution," he stressed.
He said there was need to thing about that some of the judges were criticised while others were not. He said people criticised retired Justice Munir, retired Justice Irshad Hassan Khan, former chief justice Saqib Nisar and former SC judge Asif Saeed Khosa but no one raised fingers on retired Justice Saeeduzzaman Siddiqui and Justice Nasirul Mulk.
He said the apex court had re-written the Section 63-A of the Constitution despite the fact that it was not its domain. He said, "We are directly facing its repercussion today". He said former prime minister Nawaz Sharif was disqualified for life by courts, saying he was unable to find any instance wherein an institution had disqualified as person of the other institution.
Khawaja Asif also slammed the previous government of the PTI, regretting that they backtracked from its agreement with the International Monetary Fund (IMF). He said, "We have inherited an economic crisis and the mess of past four years cannot be cleared in a matter of eight or nine months".
He said we are fully cognizant of the problems faced by the common man, but it will take time to put the economy back on track.
The Defence Minister also voiced concern over acts of terrorism in the country. He described his recent talks with Afghan authorities in Kabul as positive. He also lashed out at Imran Khan for resettlement of TTP militants in Pakistan.