Won't delay approval of Finance Bill, President assures Dar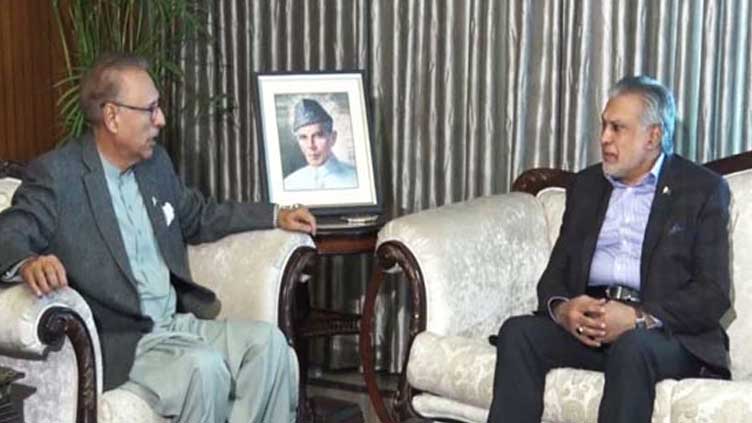 Pakistan
Finance Minister Ishaq Dar called on President Arif Alvi.
ISLAMABAD (Dunya News) – President Arif Alvi on Tuesday assured Finance Minister Ishaq Dar that he would not delay approval of Finance Bill.
According to sources privy to the development, Finance Minister Ishaq Dar called on the president and apprised him urgency of the bill's approval to meet conditions of International Monetary Fund.
The National Assembly has passed the Finance (Supplementary) Bill, 2023, proposing additional taxes and duties of Rs170 billion to meet the understanding reached with the International Monetary Fund (IMF) for the Extended Fund Facility.
According to the bill, General Sales Tax (GST) will be increased from 17 per cent to 18pc. It has been decided to enhance the GST on luxury items from 17pc to 25pc.
For the air travel, it has been proposed that a fixed amount of Federal Excise Duty (FED) ranging from Rs75,000 to Rs250,000 of different tiers as per the International Air Transport Association on airfare for first, business and club classes should be imposed.
Besides, 10pc withholding adjustable advance tax will be levied on the bills of wedding halls in order to promote simplicity and austerity. The FED will be enhanced on sugary and aerated drinks, while FED will be increased on cement from 1.5 rupees to two rupees per kilogrammes.