Pakistan to continue moral, political support to Kashmiris: FO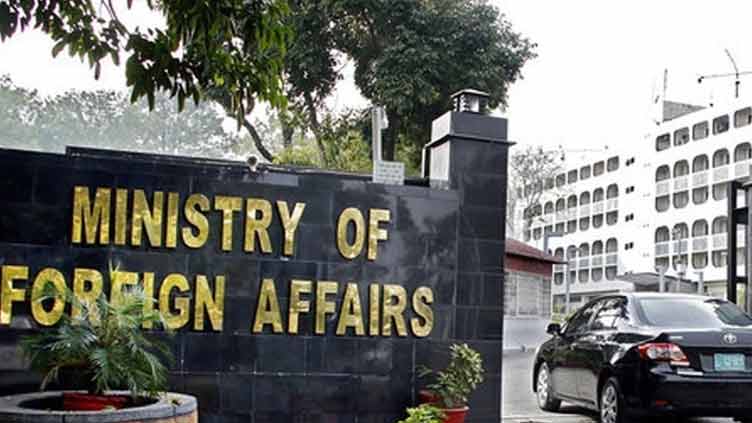 Pakistan
Foreign Office spokesperson said that the human rights violations in IIOJK continue unabated.
ISLAMABAD (Dunya News) - Pakistan will continue to extend political, diplomatic and moral support to Kashmiri brothers and sisters for the just and peaceful settlement of the Jammu and Kashmir dispute in accordance with the United Nations Security Council Resolutions.
Speaking at a weekly press briefing, the Foreign Office spokesperson on Thursday said, "the human rights violations in Indian Illegally Occupied Jammu and Kashmir (IIOJK) continue unabated."
According to the reports, a young Kashmiri, Shamsuddin son of Jamaluddin, died at an interrogation center in Udhampur after he was subjected to torture that he had to endure since his arrest from his house about a month ago. Shamsuddin was neither the first nor the only incident of Kashmiri youth who had gone missing and was believed to have been killed in custody or fake encounters, she added.
"We have been raising our concerns about the custodial deaths in IIOJK. Those responsible for such inhumane acts and human rights violations must be held to account.
The spokesperson said the issue of illegal settlements in IIOJK and India's efforts to change the demographic structure of the occupied territory was an illegal act. "We have reiterated this position time and again, including in my last briefing which focused on this particular aspect."
"We have said that these acts are a violation of international law, especially the Fourth Geneva Convention that interdicts the occupation forces to make any material change in the demographic structure of the occupied territory," she remarked.
The Spokesperson said, "Pakistan has consistently raised the issue of Jammu & Kashmir dispute, human rights violations there and the issues of demographic changes at all relevant platforms including OIC."
"This has been raised in meetings of our leaders and officials with international stakeholders and global leaders.
The Foreign Minister has addressed letters to the Secretary General of OIC, the Secretary General of the United Nations, the President of the United Nations Security Council and the President of the United Nations General Assembly only in this month.
In these letters, he has highlighted the grave violations of human rights in Indian Illegally Occupied Jammu and Kashmir and the illegal and unilateral steps being taken by India since 5th August 2019."
"We also are encouraged with the recent statements and resolutions of the OIC including at the Council of Foreign Ministers and Senior officials," she added.
She said Pakistan was pleased with the progress in its engagement with the United States.
"There is a positive momentum in this relationship and we believe that with continuous engagement and dialogue we can further strengthen our bilateral relations. In our various meetings and interactions, the two sides continue to discuss all matters of mutual interest and concern," she added.