A pictorial tribute to Pervez Musharraf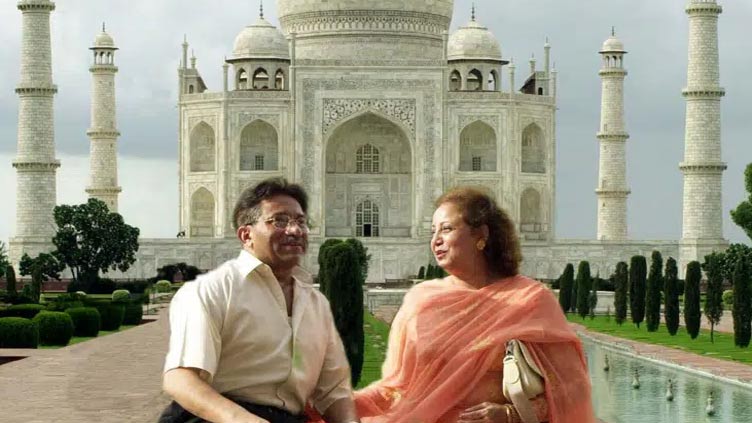 Pakistan
Former president and army chief Pervez Musharraf passes away in Dubai
LAHORE (Web Desk) - Pakistani former President Pervez Musharraf died on Sunday following a prolonged illness at a hospital in Dubai, after years in self-imposed exile.
Prime Minister Shehbaz Sharif, President Arif Alvi and the chiefs of Pakistan's army, navy and air force each expressed condolences on his death.
Here we provide a brief pictorial overview from his time as army chief, followed by his nine-year-long rule and the years after he retired as the country's chief executive.
In this file photo from October 8, 1998, then prime minister Nawaz Sharif talks with the newly appointed Chief of Army Staff, General Pervez Musharraf.

Then army chief Gen Pervez Musharraf's address to the nation on October 13, 1999.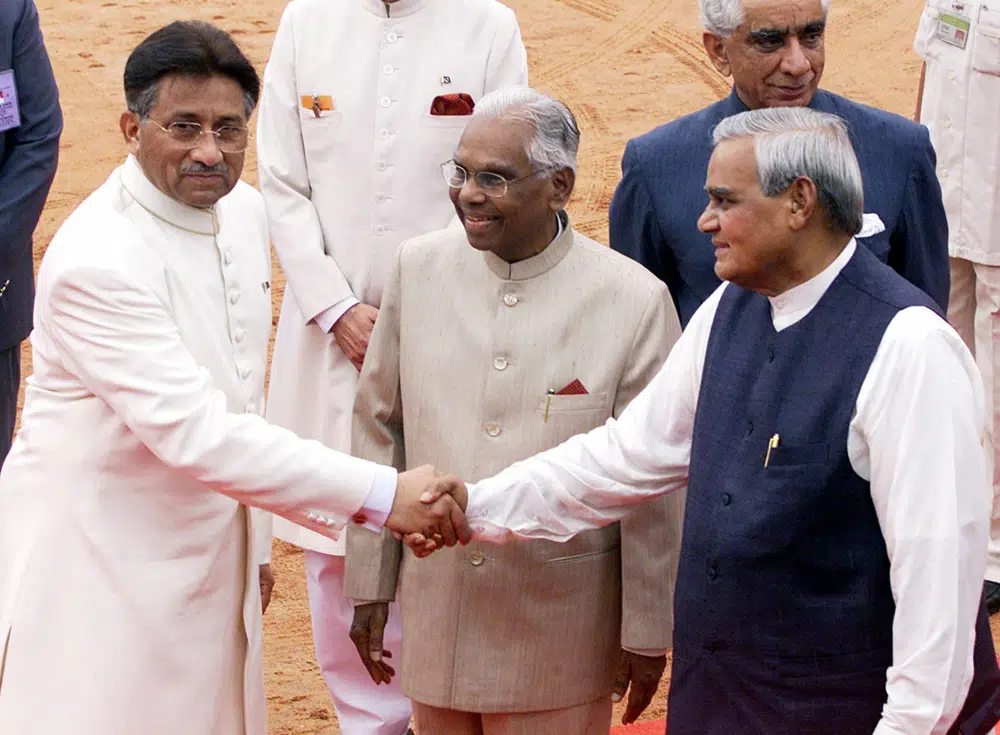 Then Pakistan President Gen Pervez Musharraf, left, is greeted by Indian Prime Minister Atal Bihari Vajpayee at the Presidential Palace in New Delhi, India, on July 14, 2001.
President Mohammad Rafiq Tarar and military ruler General Pervez Musharraf attend the Independence Day ceremony on August 14, 2000.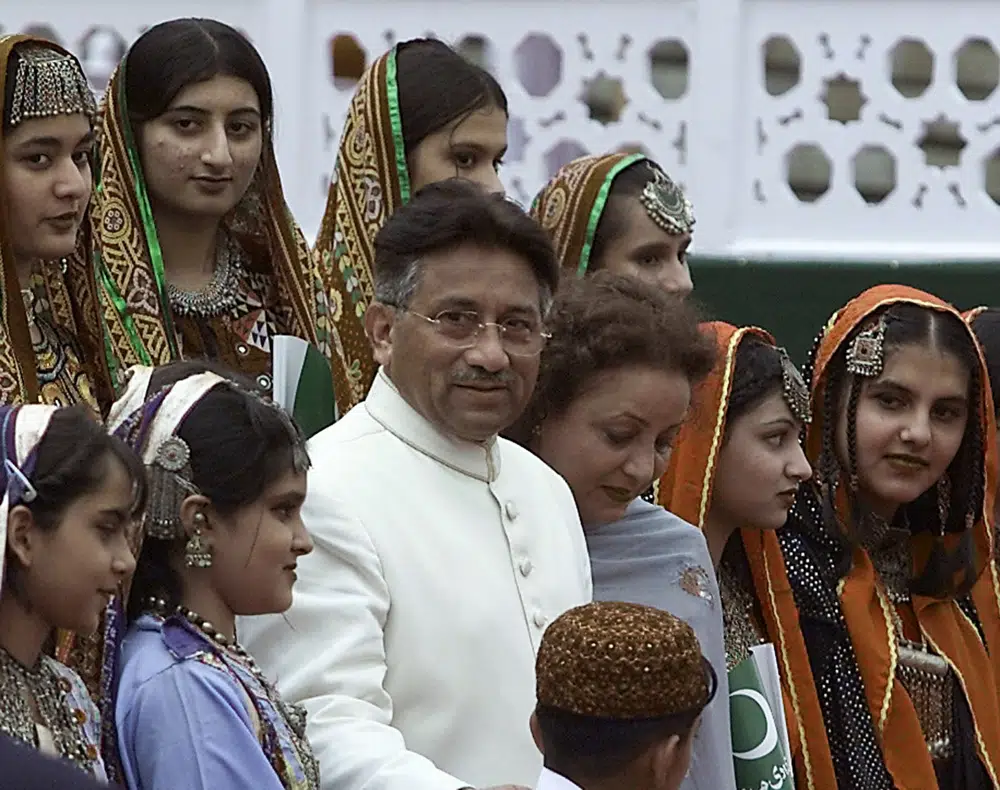 Gen Pervez Musharraf, center, and his wife Sehba Musharraf, 3rd right, pose with Pakistani children clad in traditional dresses during the 54th anniversary celebration of Pakistan's Independence Day at Presidential palace in Islamabad, Pakistan on Aug 14, 2001.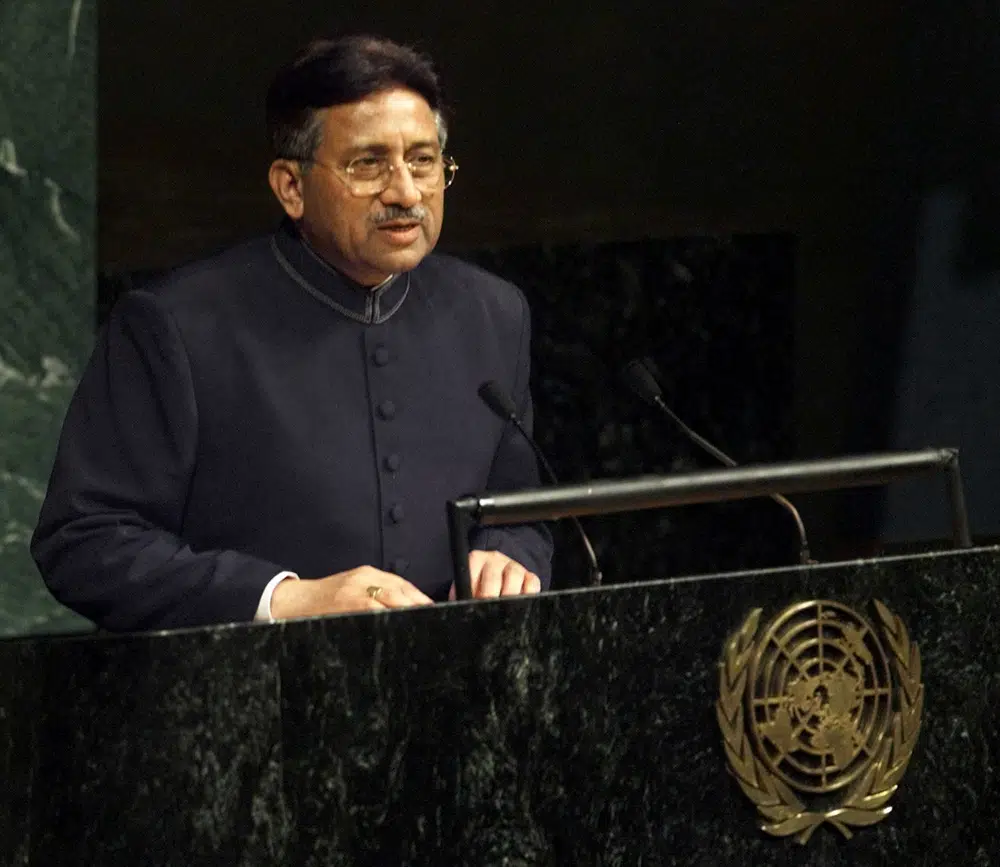 Pervez Musharraf addresses the U.N. General Assembly on Nov. 10, 2001, at the United Nations headquarters in New York.
President General Pervez Musharraf (L) shakes hand with top military official, General Mehmood (2nd R), the chief of Inter-Services Intelligence (ISI).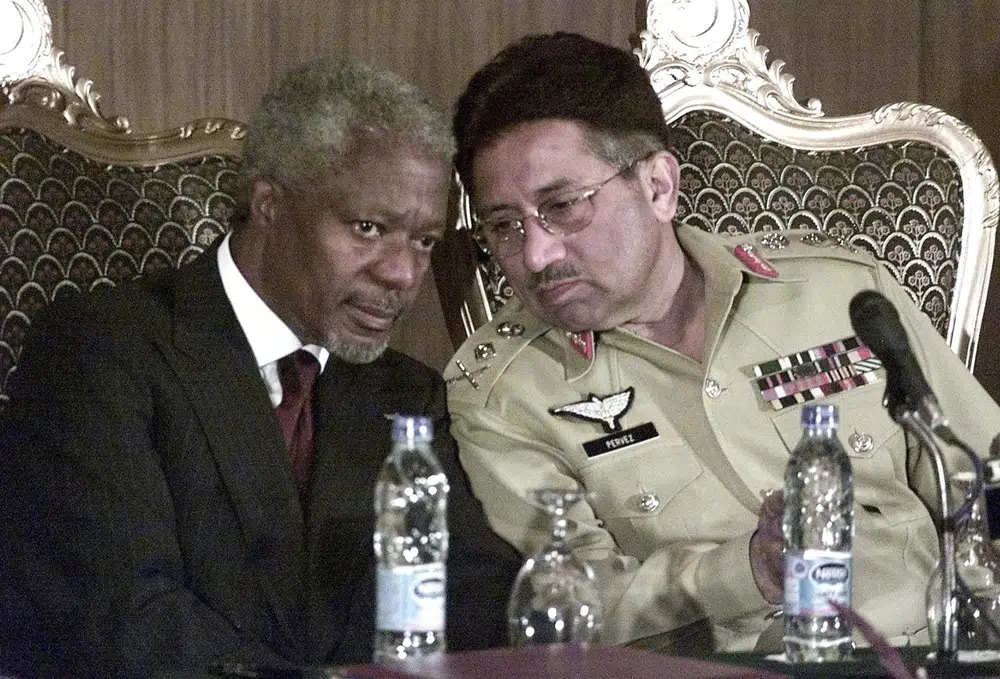 Gen. Pervez Musharraf, right, chats with U.N. Secretary General Kofi Annan at Pakistan Human Development Forum on Jan 24, 2002 in Islamabad.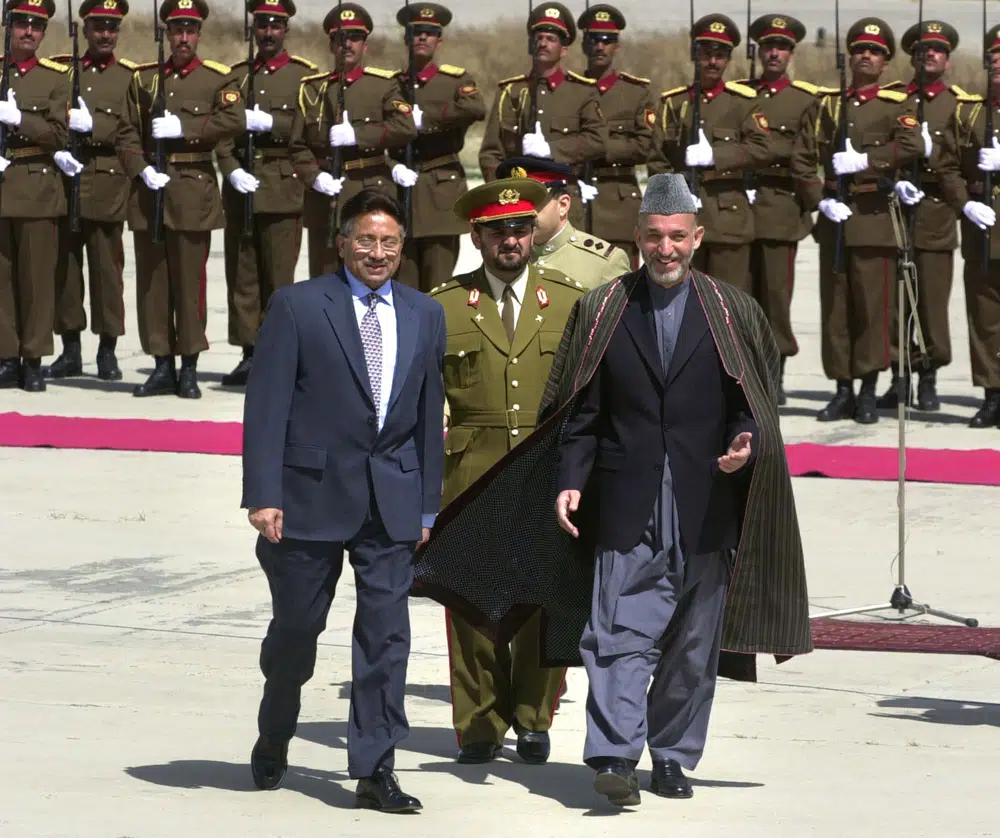 Hamid Karzai, right, welcomes Pakistan President Gen. Pervez Musharraf on April 2, 2002, at Kabul International Airport in Afghanistan.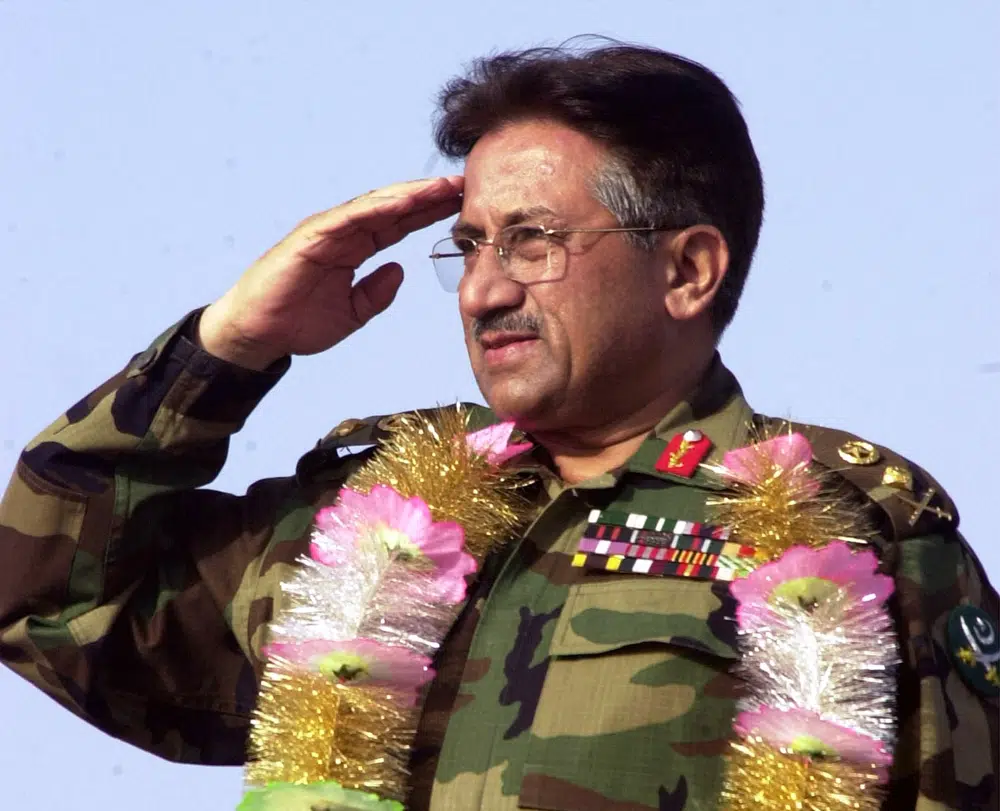 Gen. Pervez Musharraf salutes on April 9, 2002 at a public rally in Lahore.
In this file photo from October 11, 2002, Musharraf casts his vote at the Park Road polling station in Islamabad.
In this photo taken on June 12, 2004, Musharraf laughs while responding to a question during an interview in Rawalpindi.
President George W. Bush meets his Pakistani counterpart Pervez Musharraf in the Oval Office of the White House in Washington December 4, 2004.
Pervez Musharraf shakes hands with Indian Prime Minister Manmohan Singh before their meeting in New Delhi April 17, 2005.
General Pervez Musharraf salutes during the playing of Pakistan's national anthem at the Joint Staff Headquarters in Rawalpindi November 27, 2007.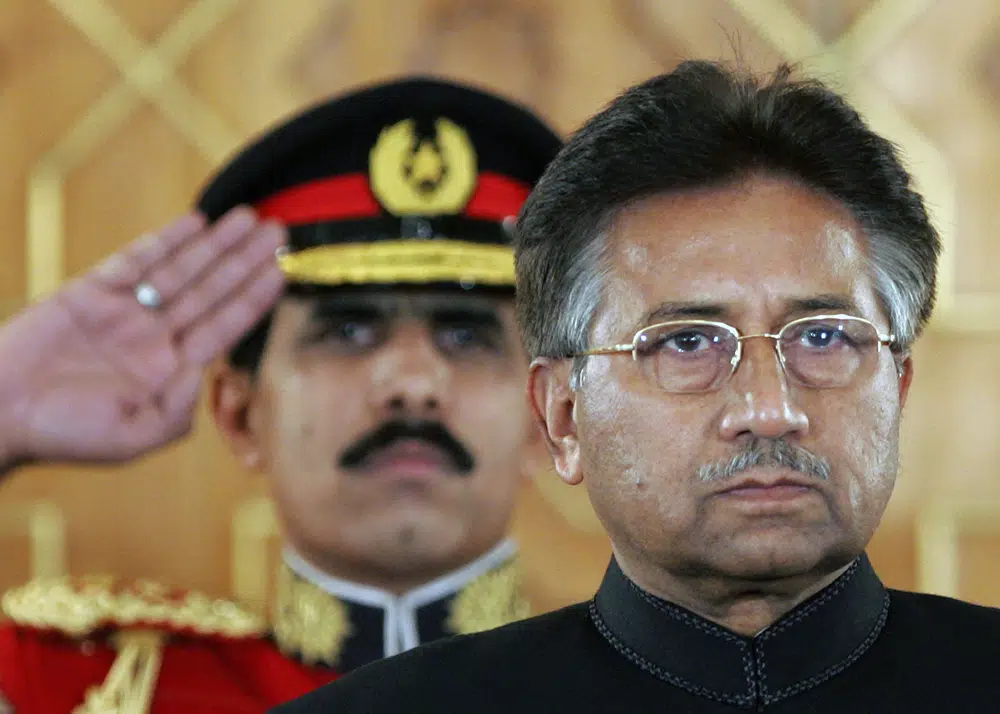 Pervez Musharraf listens to the national anthem before being sworn in as the country's civilian president at President House in Islamabad, Pakistan on Nov. 29, 2007
President Pervez Musharraf, front left, administers oath to newly-elected Prime Minister Yousaf Raza Gilani, front right, at Presidential Palace in Islamabad, March 25, 2008.
Musharraf salutes as he leaves the presidential house in Islamabad, August 18, 2008.
Former president Musharraf speaks during an event at the Westin Hotel in Bellevue, Washington on March 14, 2010.
Former Pakistani President Pervez Musharraf (C) arrives before his speech, broadcasted live via video link to a rally of about 8,000 supporters in the commercial centre Karachi, Dubai January 8, 2012.
Pervez Musharraf, addresses his supporters after his arrival from Dubai at Jinnah International airport in Karachi March 24, 2013.
Musharraf during an interview at his residence in Dubai in 2018.
Musharraf at a hospital in Dubai in March 2019.
A television screen displays the news after Pakistani court sentenced former military ruler Pervez Musharraf to death on charges of high treason and subverting the constitution, at a shop in Karachi, Pakistan December 17, 2019.