Panic-stricken people express discontent in KP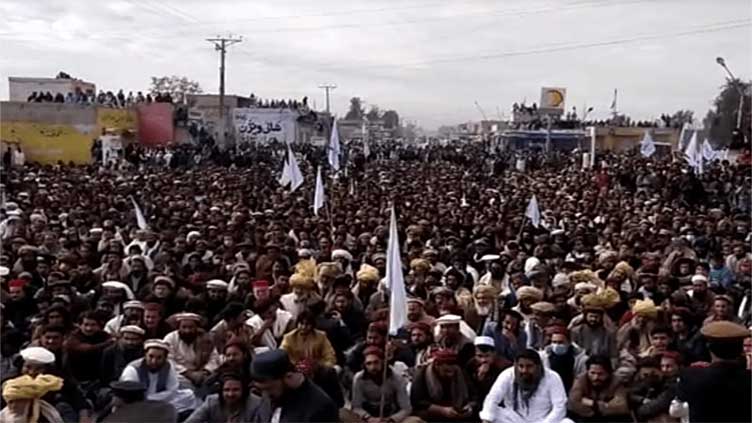 Pakistan
Panic-stricken people express discontent in KP
PESHAWAR (Dunya News) – The people of Khyber Pakhtunkhwa protested against the recent wave of terrorism that hit the province quite painfully and ferociously.
The country, especially KP, was hit with terrorist attacks recently, and people showed their anger and displeasure by coming in huge numbers on the streets.
On Jan 30, a powerful explosion ripped through a mosque in Peshawar's Red Zone area where between 300 and 400 people — mostly police officers — had gathered for prayers. The suicide blast blew away the wall of the prayer hall and an inner roof, claiming the lives of 101 people.
Various political parties, including Pakistan Tehreek-e-Insaf, Pakistan Peoples Party, Awami National Party, also joined the rallies with the local leaders addressing and demanding peace to be ensured in the province. The people also demanded justice for victims of the horrific blast in Peshawar that sent shockwaves across the country.
The rally started from Karora and people gathered in large numbers when it reached Alpuri.
ANP's Muhammad Yar Khan said the Peshawar blast was a severe security lapse and raised the question of how a bomber could get inside the sensitive area.
PPP's Ghulamullah said that even the rescuers of the people (police) were not safe and they faced threat to their lives. The people would not get security in case of the police facing security challenges.
PTI on streets
The PTI also staged an 'Aman March' in Swabi, Mardan, Charsadda, Bannu, Lower Dir and Timergara, with former National Assembly speaker Asad Qaiser saying the people of KP had given a lot of sacrifices and, now, they would not want to become a part of any other's war.

#پاکستان_امن_مارچ pic.twitter.com/DRjtkBBllr

February 3, 2023