Internal differences pose serious threats to our country: Kh Asif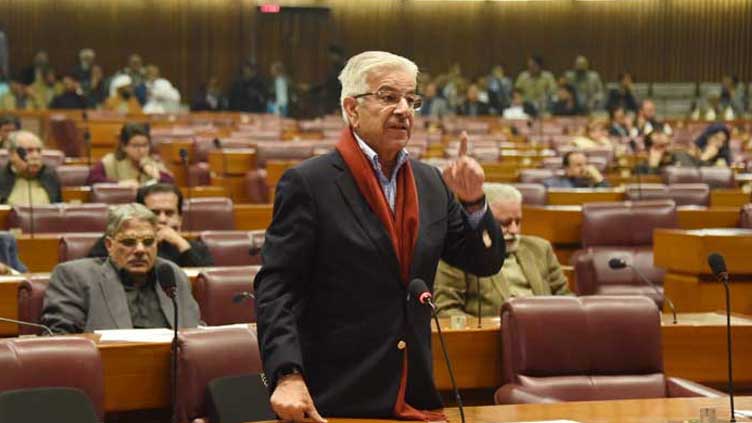 Pakistan
Internal differences pose serious threats to our country, says Kh Asif
ISLAMABAD (Dunya News) – Minister for Defense Khawaja Muhammad Asif on Tuesday urged all political forces to unite against the hostile elements as terrorists were targeting not a sect or any particular segment of society but the entire nation.
Speaking on a point or order in National Assembly, he said the internal differences were posing serious threats to our country, adding "We must put our House in order first."
He said "Soul searching and self accountability has become imperative due to our own follies and blunders as the seeds of terrorism were sown during the dictatorial tenures."
The country has already endured over 126 billion dollars economic losses and 83,000 people including, armed forces personnel, Police officials and other martyred but the world does not acknowledge our sacrifices.
He said over 450,000 Afghans had been settled in Pakistan after crossing the Pak-Afghan border on valid document. They did not return to their country and had now occupied transport business in Pakistan, he added.
He said Afghan authorities had already committed in Doha agreement that their land would not be used against Pakistan.
The minister said Pakistan Muslim League Nawaz (PML-N) brought the country on path of progress, prosperity and peace in its tenure by eliminating terrorism from the country.
He criticised Pakistan Tehreek-e-Insaf (PTI) Chairman Imran Khan for portraying negative picture of the country.